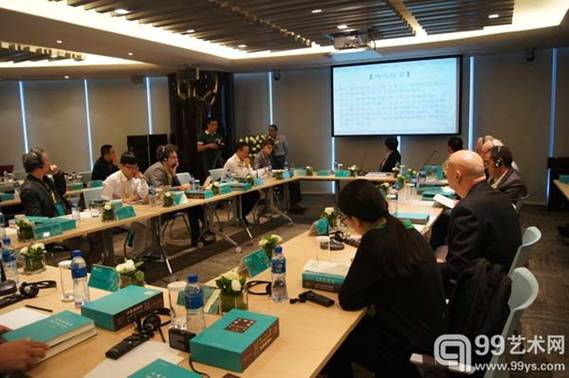 Experts get together to share views. [Photo/99ys.com]
An international conference The Dimension of Civilization was held in Yinchuan from Sept 19 to Oct 20. About 20 experts and scholars were invited to share views on cultural exchanges between China and the West from the 17th to 19th centuries.
Francesco Morena, an Italian scholar specializing in Asian art, introduced the cultural exchanges between China and Italy from 13th to 16th centuries. At that time, Italian people created alternatives to Chinese silk, porcelain and lacquer ware. And various Chinese elements can be found in Italian ornamental pattern. He said it is the original Chinese art style which had a far-reaching influence on the taste of people in the late medieval and renaissance.
Lu Peng, associate professor from the China Academy of Art, discussed the history of Western painting in the late Qing Dynasty and its connection to the Chinese art history. He said the art history from the 18th and 19th centuries has been overlooked in Chinese art history. Such deficiency will severely hamper the Chinese painting research. He called on Chinese art research to return to this period of history.
Xi Huidong, associate professor from the Northwest University, analyzed the shift of the Silk Road during the 14th to 17th centuries. The East-West exchanges constantly changed the map of the Silk Road. It can be seen in the navigation map by Zheng He, who made seven voyages to the Western Seas during the 15th century. In addition, it can be proven by old records in the 16th and 17th centuries. The opening of the land and maritime Silk Road witnessed the geographic exchanges among Asian Confucian culture, Islamic and Christian culture. It promoted the spread of geographic knowledge and exchanges in Eurasia and the New World and accelerated the world modernization and integration.