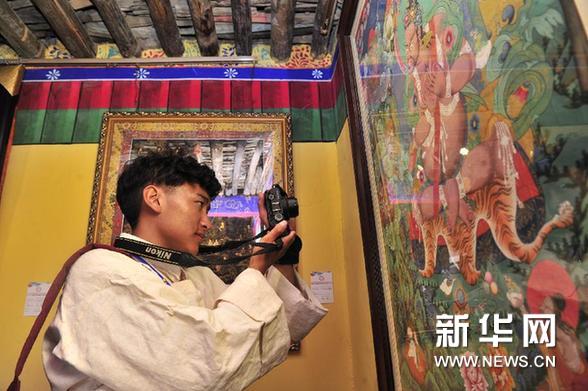 A visitor takes a photo at the Tangka Art Fair in Lhasa on Aug 24, 2014.[Photo /xinhua]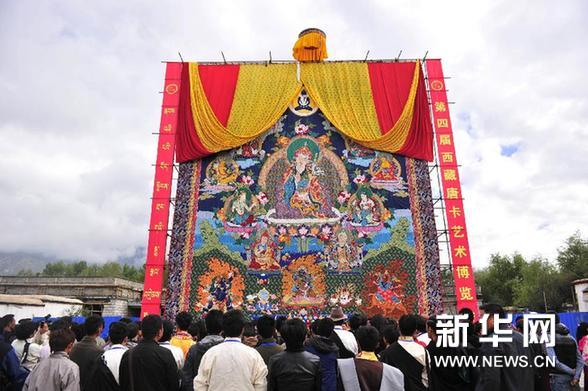 The giant Tangka  work, Jinxiulianshi. [Photo/xinhua]
On Aug 24, the fourth Tibetan Tangka (also called Thang-ga) Art Exposition opened in Lhasa. Sixty-five masterpieces from different Thang-ga schools were displayed for a week. A giant Tangka work, Jinxiulianshi, as large as half a basketball court, made its first appearance.
Tangka (Thang-ga) is a unique painting form in Tibetan culture. Its subjects involve many fields such as history, culture, religion and life. It is known as a treasure of Chinese painting art. Nima Ciugene, director of the Tibetan Cultural Department, said that since Tangka was included in the first catalogue of national representative Intangible Cultural Heritage items, great achievements have been made in its inheritance and promotion. Many people have joined the team and contributed many masterpieces. This year's Tibetan Tangka Art Exposition will provide an exchange platform for the Thang-ga artists and enable many people to closely appreciate the high level of Tangka art.
During this year's Tibetan Tangka Art Exposition, three old artists will be honoured as Tibetan Tangka Maestros by the Tibetan Cultural Department. The department will also collect and publish picture albums of selected works from the art fair and collected papers, and hold a seminar on Tangka industry to discuss ways to promote Tibetan Tangka art.
We Recommend:
| | | |
| --- | --- | --- |
|   | | |
| Luobu Sida: a leading Thang-ga painter and a committed teacher  |  Tangka painter carries on traditional art | People celebrate Shoton Festival at Drepung monastery, Tibet  |