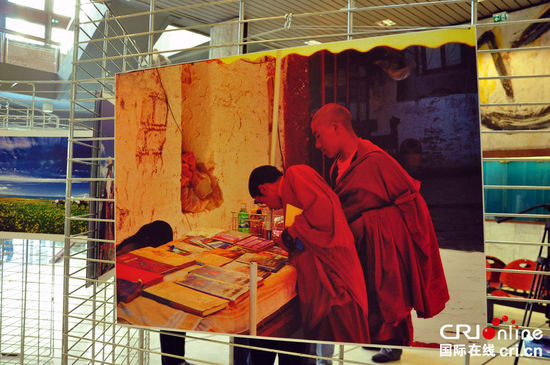 The Tibetan culture week opens in Strasbourg.[Photo/CRI online]
Strasbourg has been playing host to a series of events designed to showcase Tibetan culture and society.
Running from Sept. 24 to Oct. 2, the Chinese consulate in Strasbourg organised conferences and cultural events with the aim of helping people in the French city understand more about this vast region of southwest China.
Consul general Zhang Guobin has invited delegations of experts from Tibet to visit Strasbourg every year for the past three years.
For this year, Zhang proposed to widen the range of events to include cultural displays, including an exhibition of photographs portraying everyday life in modern Tibet. This was opened Friday at the Law Faculty of Strasbourg University by Jean-Jacques Gsell, deputy mayor of Strasbourg.
A conference at the university on Friday afternoon featured presentations on a variety of subjects in modern day Tibet.
The head of the Tibetan cultural delegation Zhang Yun explained that the week of activities was to aid understanding on Tibet and its place in multi-ethnic China.
Dr TseRing described the history and practice of Tibetan medicine, while Mrs. GeSang outlined the development of Tibet in recent decades. A Buddhist monk, Cili Wangdeng, gave a presentation to university students on the role of religion in Tibetan society.
On Sept. 29 there will also be an evening of Tibetan music and dance.
Strasbourg is the home of several important European institutions, such as the European Parliament, the Council of Europe and the European Court of Human Rights.
We recommend: