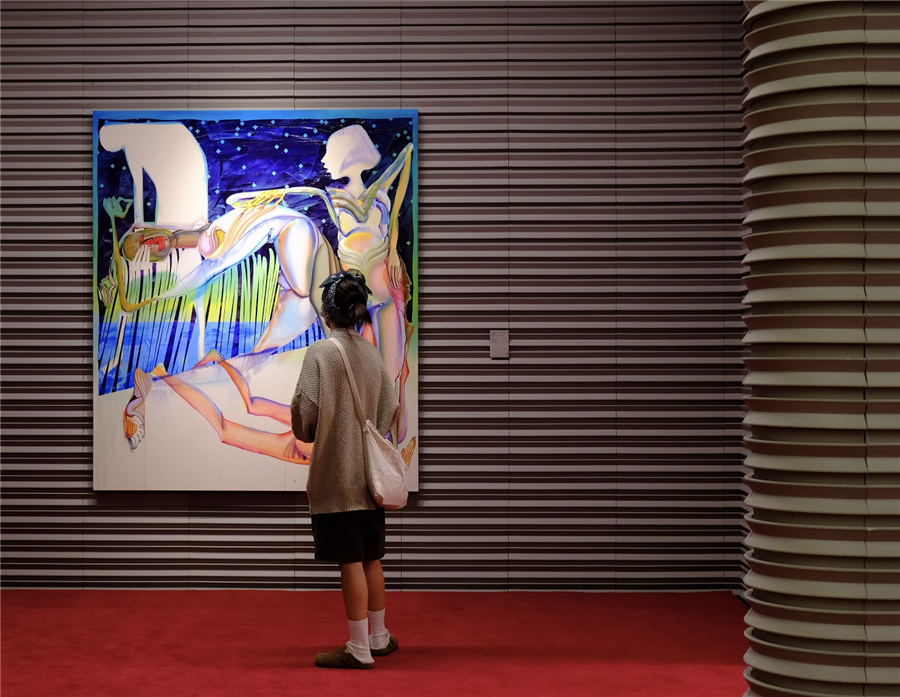 In psychedelic colors, a couple of limbs and torsos collide and entwine with each other, refusing to be locked by the frame of the canvas.
"How stylized and fantastical! These bodies are exaggerated, surreal, cartoony, and grotesque, reminiscent of Dali," said William Weydig, an art lover at Christina Quarles: Dance by tha Light of tha Moon, an exhibit that opened at the X Museum in Beijing on Saturday.
Curated by Rao Kuizhen, the show, running through May 30, brings together 13 large-scale acrylic paintings of Quarles, marking the Los Angeles-based artist's first major museum solo in Asia.
A new darling of the art world, Quarles received an Master of Fine Arts degree from the Yale School of Art in 2016 and has since risen to fame. This year, aside from the Beijing show, she is invited to hold another major one-man show at the Museum of the Contemporary Art Chicago in the United States and an upcoming one at the South London Gallery in the United Kingdom.
"I was grabbed by her distinctive style the moment I saw her work for the first time three years back," Rao told China Daily website, adding that David Hockney and Willem de Kooning jumped to mind.
Quarles' vibrant palette, as the curator revealed, evokes that of Bradford-born and LA-based master Hockney who is known for his signature Californian palette typified by bold and bright colors; the way Quarles painted human bodies recalls abstract expressionist de Kooning's distorted, dismembered female figures.