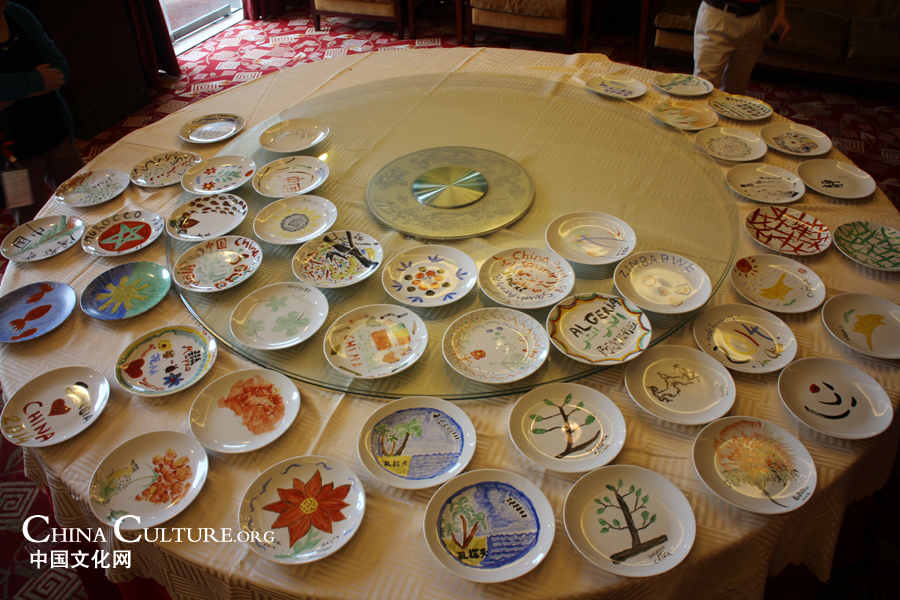 These hand-painted porcelain plates were painted by the diplomats. [Photo provided by Bureau for External Cultural Relations, Ministry of Culture]
Jingdezhen in Jiangxi province is the famous ceramic city of China. It is known as one of China's four famous towns from the Ming and Qing dynasties, along with Foshan (Guangdong province), Hankou (Hubei province), and Zhuxianzhen (Henan province).
Early this summer at the end of May, a number of special guests visited the old porcelain capital. Hosted by the Bureau for External Cultural Relations of the Ministry of Culture, the first "China Culture Journey" campaign kicked off in Jingdezhen. Diplomats from 19 countries, including Luxembourg, Russia and Hungary paid a visit to the cultural attractions in Jingdezhen. They personally created porcelain products, which enhanced their appreciation of the cultural heritage and development of Chinese porcelain and the exploration of the opportunity for cultural exchanges and cooperative projects.
Zhu Hong, the vice governor of Jiangxi province, said Jingdezhen ceramics have been the main commodity in foreign trading for 1,000 years. Jingdezhen has therefore been recognized as the "Millennium Porcelain Capital". Diplomats hoped to deepen the understanding of Jiangxi and strengthen trade and cultural exchanges with foreign countries through this event.
Deputy Secretary of Bureau for External Cultural Relations, Ministry of Culture, Xie Jinying said he believed that having "China Culture Journey" start in Jingdezhen was very meaningful. He said China and porcelain share the same English meaning and the world knows China from china (porcelain).
We Recommend: