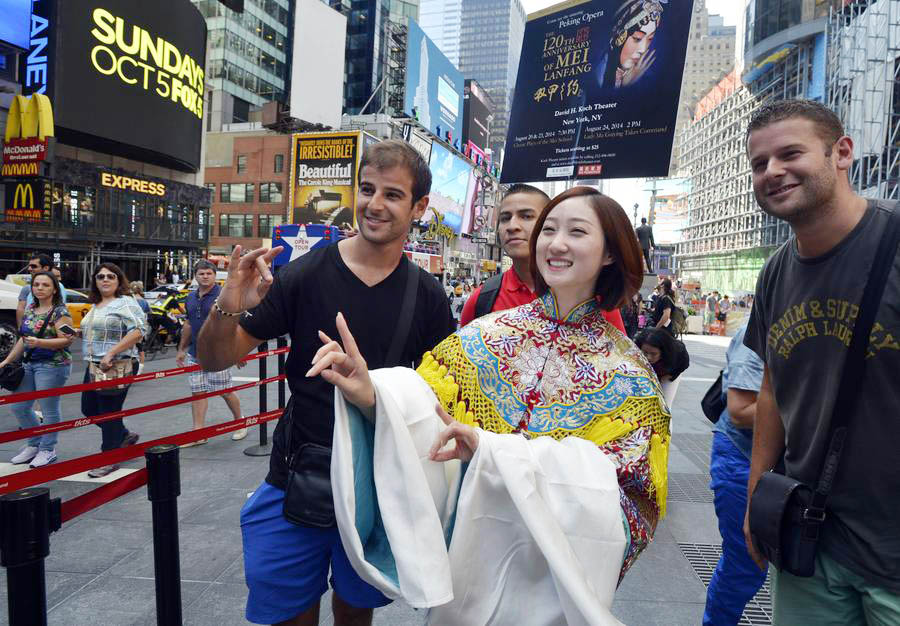 Dou Xiaoxuan from the Beijing Peking Opera Theater teaches basic Peking Opera moves during a promotional tour in Times Square, New York, on Tuesday. The theater troupe is on a visit to the United States to commemorate legendary performer Mei Lanfang. Photo by Wang Lei / Xinhua
Known as the most outstanding Peking Opera performer of all time, Mei Lanfang (1894 -1961) is being remembered this week with presentations in New York City commemorating his birth 120 years ago in Beijing.
Performances will take place on Wednesday, Saturday, and Sunday at the David H. Koch Theater in New York. More performances will occur at the John F. Kennedy Center in Washington on August 27 and 28.
In Mei's 50-year opera career, he portrayed female characters which won him international acclaim. His smooth, poised style is known as the Mei School. He was one of the Four Great Dan (female role) opera performers in the golden era of Peking Opera. In the Peking Opera, the female parts, like Shakespearean plays in England, were originally performed by men.
We Recommend: