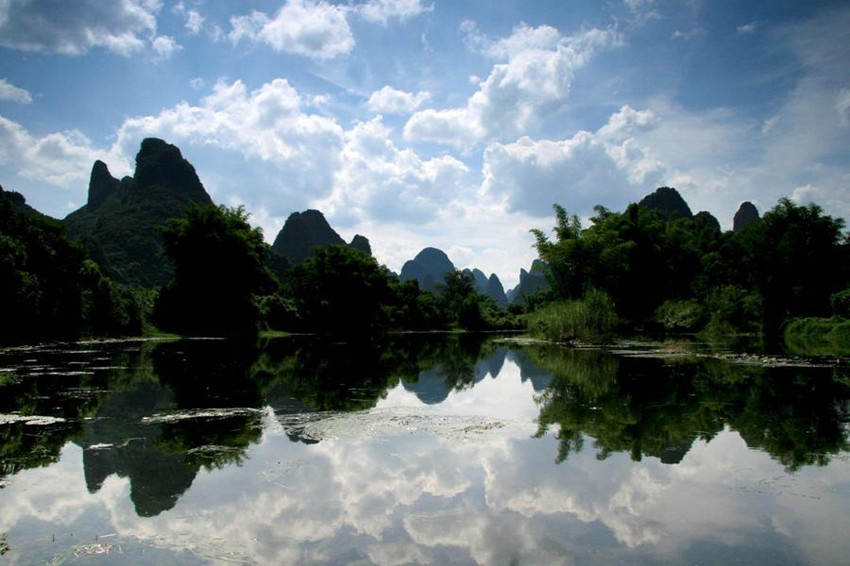 [Photo/Xinhua]
On a Beijing morning at 5:35, cracks of light begin to break through the hazy skies. Two hours later, the plane lands in the southern city of Guilin, the Guangxi Zhuang autonomous region, a place that lies in southern China, bordering Vietnam. Through the window I can make out the vague outline of the karst countryside in the morning haze. Its gray complexion is almost see-through, like a pencil sketch that someone had tried to erase, leaving the smudges of graphite on the paper.
Earlier that afternoon, I caught a bus heading farther south, past villages and through the countryside. On the road to Yangdi, a village that embraces the Lijiang River, the lanes were swept with dust. We drove past makeshift stalls spilling over with watermelons on both sides of the road. It was 38 C and the people on the pavement carried umbrellas, wore raincoats and ducked for cover. Bikes and buses, cars and trucks, all woven impulsively along the long road paved with potholes, a tarmacked slalom heading south to the village. All the while the karst limestone mountains, cloaked in green, dotted the countryside.
Later in the day, I loosen a rope, disconnecting an anchor, and the raft I've jumped on starts to rock gaily on the Lijiang River before the motor kicks in and begins to push downstream.
The scenery is art at its most natural; we pass green mountains as we flow along the river. The waters are calm with occasional ripples.
People come here to escape urban China, to swap the chaos of the concrete jungle for tranquility among the mountains. The river carries a steady stream of tourists on rafts and larger cruise liners. The sound of the water is drowned by the buzzing and humming of motors.
We Recommend: