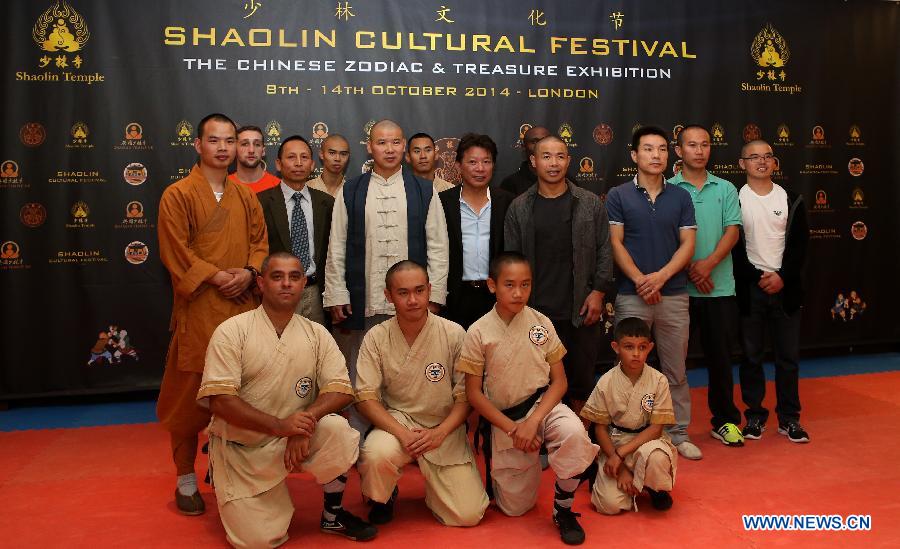 Founder of Shaolin Temple UK, master Shi Yanzi (3rd L, 2nd Row) and Dr. Ding Ding (2nd L, 2nd Row), general secretary of Shaolin Europe Association, pose for a group photo during the press conference for the third Shaolin Cultural Festival held in Shaolin Temple UK in London, Britain on Aug. 20, 2014. The third Shaolin Cultural Festival will be held in London from Oct. 8 to Oct. 14, 2014. [Photo/Han Yan]
The 2014 Shaolin Cultural Festival, including Kungfu competition and exhibition on Shaolin culture and 12 Zodiac Animals Cultural Relics, will be held in Britain in the upcoming October, organizers announced on Wednesday.
Scheduled for Oct. 8 to 14 in London and the University of Oxford, the event is organized by Shaolin Temple China and the European Shaolin Association, with Shaolin Temple UK (China Cultural Funds) as the co-organizer.
Visitors will also have opportunities to experience Chinese meditation, medicine, tea and incense ceremony on the festival.
Cultural exchange events such as Kungfu shows, speeches and dialogue attended by Shi Yongxin, the abbot of China's Shaolin Temple, and professors from Oxford University, will also highlight the festival, according to organizers.
Shi Yanzi, master in Shaolin Temple UK, said the festival is intended to let more people know the Shaolin culture, a combination of various aspects, "such as Chan Buddhism, Confucianism, Taoism, Kung Fu, traditional Chinese medicine and art."
Calling the Shaolin culture "the essence of Chinese culture," he said Shaolin culture never contradicts any other religions with healthy, just, merciful and peaceful ideas.
"We unite people who share the same ideas and any kind of outstanding cultures, and share with the whole world," he added.
The first Shaolin Cultural Festival was held in Berlin in 2012, followed by a second such event in the United States last year.
We Recommend: