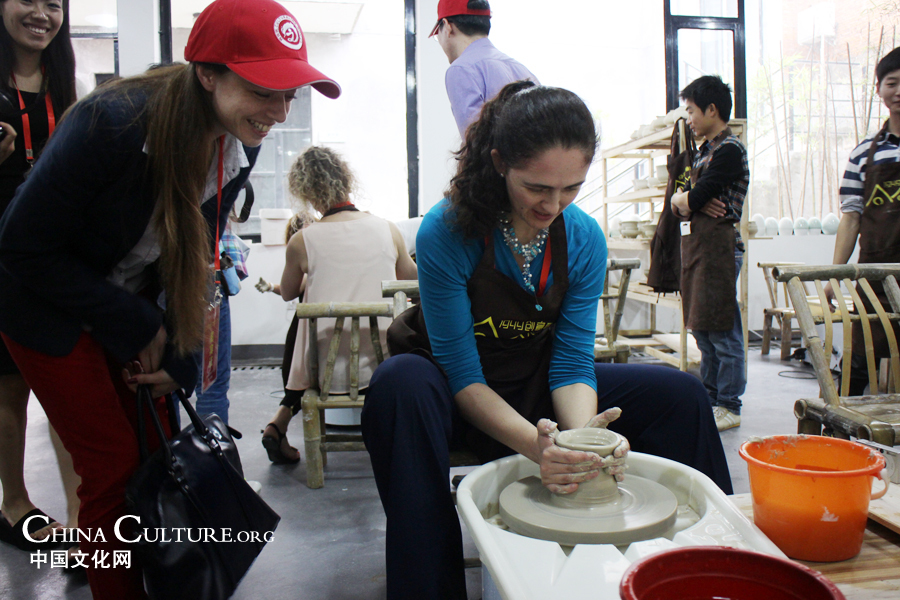 Diplomats try hands-on pottery making under the guidance of an artist. [Photo provided by Bureau for External Cultural Relations, Ministry of Culture]
The first stop of "China Culture Journey" was Jianguo Cultural and Creative Park in Jingdezhen. After several local masters explained how to paint the pottery, the diplomats began their DIY creations - hand-painted porcelain plates. The style of the plates they designed was unique and bold and illustrated their friendship with China and their emotions to their friends and families.
In the "handmade pottery experience area" of Creative Park, diplomats also tried hands-on pottery making under the guidance of the artists.
In the "odd porcelain charm" music park, Chinese musicians dressed in blue and white played Chinese and foreign songs with traditional instruments made of porcelain - bells, a flute, a erhu, dulcimer and drum. Combined, they performed together like a small Chinese symphony orchestra.
After that, the diplomats also visited the Jingdezhen Zhushan factory sites, Minyao museums and other attractions. By watching the exhibition and listening to description from experts, they learned the history of Chinese ceramics in a short time.
Luxembourg Ambassador to China Paul Steinmetz said he hoped to create future opportunities for young artists in Luxembourg to experience life in Jingdezhen and he was willing to invite young artists to participate in cooperative projects in Luxembourg.
Iranian Cultural Attaché of Embassy Hossein Jalilvand said that the Chinese government is devoted to the construction of the "Silk Road Economic Belt," which interests Iran. He hopes to have the opportunity to visit to Xi'an and Dunhuang.
We Recommend: