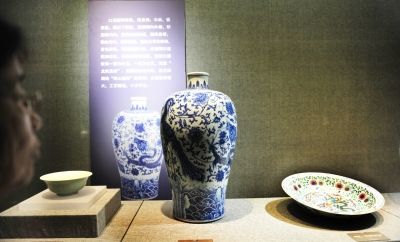 Porcelain decorated with patterns of a dragon and phoenix, and blue and white porcelain, from Yangzhou Tangcheng Museum is seen, along with a ceramic plate with line patterns of a dragon and phoenix, also from the reign of Yongzheng, from the Palace Museum.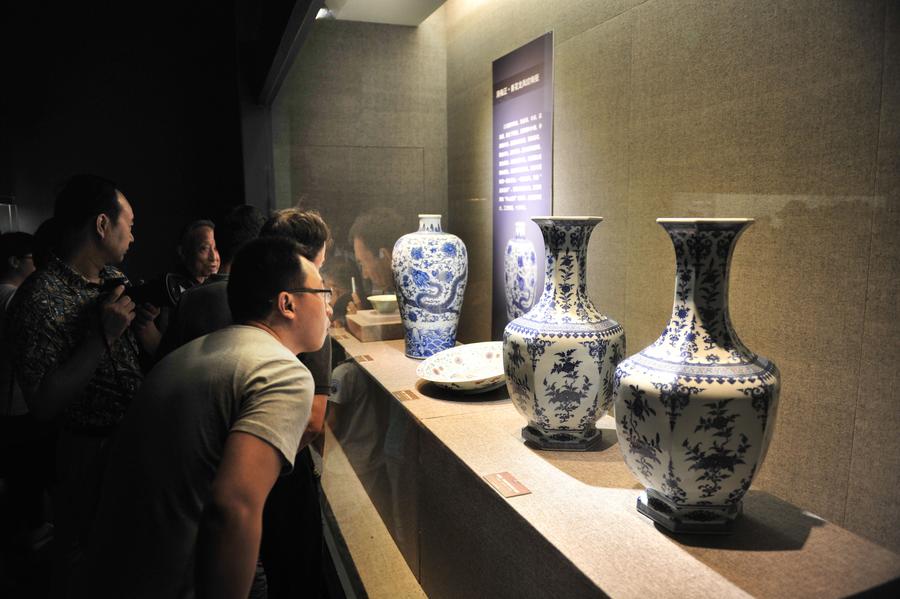 Visitors gaze at hexagonal-shaped blue and white porcelain vases decorated with line patterns of flowers from the reign of Qianlong during the Qing Dynasty. [Photo/xinhua]
The three-month show, "The Forbidden City•Yangzhou•the Grand Canal—Special Exhibition of Cultural Treasures" commenced at Yangzhou Museum on July 26. One hundred and twenty sets of cultural treasures from the Palace Museum and Yangzhou Museum are on display, including jade, porcelain, calligraphy and paintings.
 We Recommend:
| | | |
| --- | --- | --- |
|   |   |   |
| Zhejiang Art Museum displays best of its collection  | Ancient charm of Yinxian Wooden Pagoda  | Chinese cultural relics lost overseas  |