People in Beijing have a chance to enjoy the classic and modern performance given by Dutch National Ballet from Oct 30 to Nov 1 at the National Center for the Performing Arts (NCPA).
Some of the troupe's most famous dancers like Anna Tsygankova, Matthew Golding and JozefVarga can be seen on stage during this China tour. They will be performing the beautiful ballet of "Giselle", as well as a gala performance featuring their contemporary pieces.
As one of the most excellent Ballet troupes in Europe, Dutch National Ballet stands for the highest standard of academism. Four years ago, its first show "Don Quixote" made a great success in China. Now, "Giselle", the combination of classic ballet and modern dance, is back on the prestigious stage of NCPA.
The ballet is about a peasant girl named Giselle who dies of a broken heart after discovering her lover, Duke Albrecht of Silesia who disguised as a peasant, is betrothed to another. A group of supernatural women who dance men to death, summon Giselle from her grave. They target her lover for death, but Giselle's love frees him from their grasp.
Dutch National Ballet also presented a flash mob dance in Parkview Green that afternoon. 10 dancers from this ballet troupe and 30 young students from Beijing Dance Academy provided a fantastic feast for people around.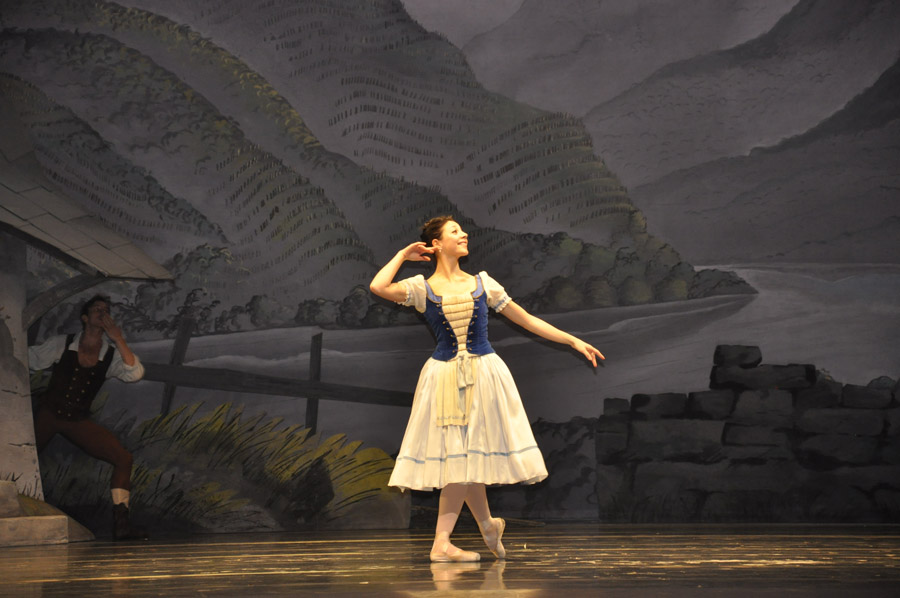 A dancer rehearses before staging their performance "Giselle"at NCPA, Oct 29, 2014. [Photo/People's Daily Online]