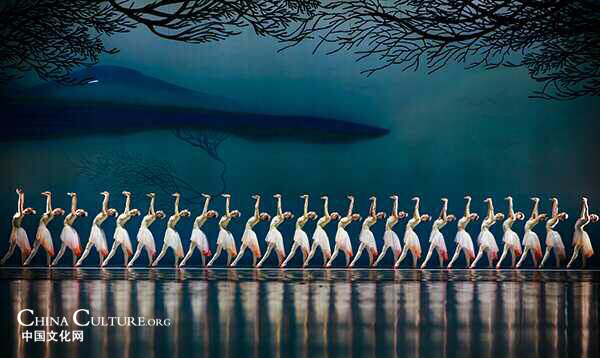 Chinese dance group consisted of 63 performers. [Photo provided to chinaculture.org]
Chinese dance drama Ibises performed by Shanghai Dance Theatre was greeted with wide acclaim in Tokyo on October 7.
Dance drama tells a story about saving the endangered ibises to inspire people to care about nature. At the beginning of the performance, ibises stay with human beings in harmony in the ancient time. As the society evolves, the elders who played with ibises in their childhood can no longer find ibises in the city. At the end of the drama seven ibises come back to remind people about the importance of environmental protection.
The drama Ibises was jointly launched by CPAFFC, Propaganda Department of CPC Shanghai Municipal Party Committee, and Shanghai Media Group. It was elaborately arranged for four years by director Tong Ruirui, composer Guo Sida, screenwriter Luo Huaizhen and chief actors Zhu Jiejing and Wang Jiajun from Shanghai Dance Theatre.
Li Xiaolin, president of The Chinese People's Association for Friendship with Foreign Countries (CPAFFC), Cheng Yonghua, China's ambassador to Japan, his wife, envoys from 25 countries and Japanese scholars from political, economic and cultural fields attended the event.
Li Xiaolin congratulated the performers and said the drama is trying to urge people to care about the earth and stay in harmony with nature.
Cheng Yonghua said in a written statement that ibis is a symbol of luck and happiness and adored by both China and Japan. Cheng hoped this drama will start a new chapter for both sides' cultural exchanges and cooperation.
After watching the drama, the representative from Japan's Min-On Concert Association said the two peoples are in need of such high-level cultural exchanges. Many audiences were touched by the performance and asked for group photos with the performers.
The dance drama will be performed in Niigata-ken and Yamanashi-ken and will tour 28 cities of Japan in June, 2015.
We recommend: