Malaysian dance [Photo/provided to chinaculture.org]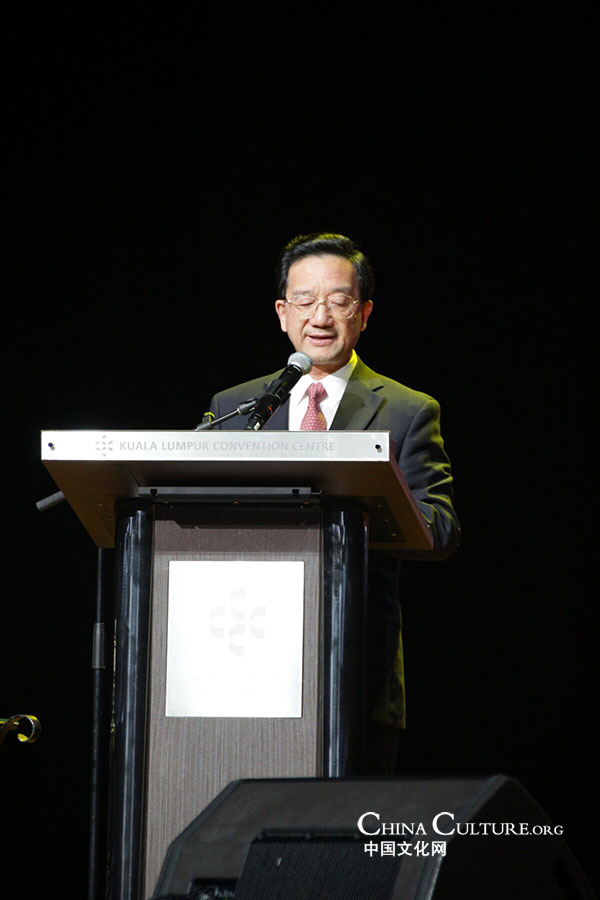 Ambassador Huang Huikang delivers a speech at the opening ceremony of the performance. [Photo/provided to chinaculture.org]

Performance by China Oriental Performing Art Group premiered in Kuala Lumpur Convention Centre in Malaysia on Oct. 6. Huang Huikang China's ambassador to Malaysia, Ma Mingqiang, Secretary General of the China-ASEAN Center, and 2,000 representatives from different fields enjoyed the event.
"This year marks the 40th anniversary of the establishment of diplomatic ties between Malaysia and China and this year is also China-Malaysia Friendship Exchange Year and the China-ASEAN Friendship and Exchange Year. The tour of China Oriental Performing Art Group, enjoying great fame around the world, will add splendor to the series celebrating activities and their visit will promote the cultural communication and mutual understanding as well as friendship between China and Malaysia," said Ambassador Huang Huikang.
The past four decades have witnessed frequent exchange of high-level visits between China and Malaysia and a growing political mutual trust and abundant accomplishments in trade, culture and education have been achieved. "Launching the new starting point of history, China-Malaysia relationship will enjoy a more bright future."
After the performance in Kuala Lumpur, the Oriental Performing Art Group will tour Malacca, Miri, Kuching and other places in Malaysia.
We recommend:
| | | |
| --- | --- | --- |
| | | |
| Oil paintings from 12th National Exhibition of Fine Arts  | Overseas Chinese Painting and Calligraphy Exhibition held in Beijing  | Art giants' self-portraits  |