Located in southwest China, Guizhou Province boasts its rich tourist resources with its appealing picturesque landscapes and diverse ethnic cultures. It's a place that you would definitely like to visit. So now let's take a deep breath and get intoxicated on the beauty of the colorful Guizhou Province.
1. Hospitable Ethnic Minority People
Guizhou is home to 49 out of 56 ethnic groups in China, of whom 17 are indigenous, including Han, and other ethnic groups such as Miao, Dong, Buyi, Ge, Hui, Yao, and Shui inhabiting this piece of land.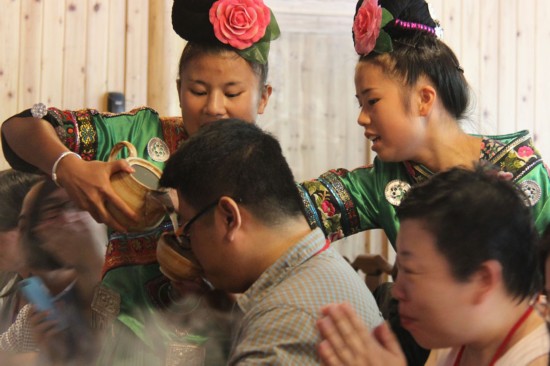 A girl of the Miao ethnic minority group pours more rice wine into a bowl from which a traveler is drinking at the long-table feast in the Xijiang Thousand Miao Village, southwest China's Guizhou Province, on September 21, 2014. This village has over 1000 Miao households, the largest such village in China. [Photo: CRIENGLISH.com / Wang Wei]
The photo taken on September 21, 2014 shows a bird's-eye view of the Xijiang Thousand Miao Village, southwest China's Guizhou Province, which looks like 2 ox horns. This village has over 1000 Miao households, the largest such village in China. [Photo: CRIENGLISH.com / Wang Wei]
Dixi is a folk drama which originated from Anshun City in southwest China's Guizhou Province. It's one of the oldest dramas in the world whose history can date back to the Ming dynasty (1368-1644). The performers do not paint their faces, but instead wear colorful masks carved of wood. [Photo: CRIENGLISH.com / Wang Wei]
We recommend: