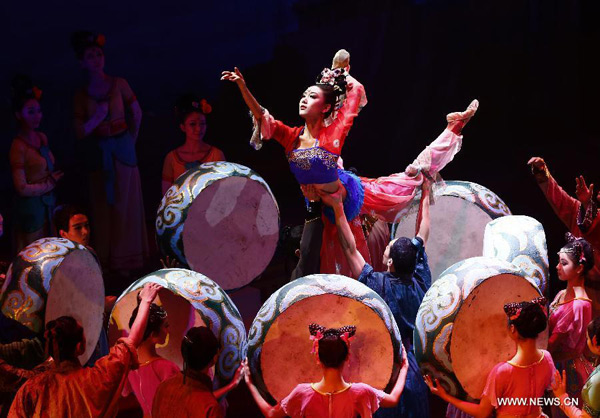 Dancers perform in the Chinese classic dance drama "Flower Rains along Silk Road" in London. (Xinhua/Yin Gang)
In January 2014, the Chinese classic dance drama "Flower Rains along Silk Road" toured London, Paris and Frankfurt. As a brand program for "The Charm of China" hosted by China Arts and Entertainment Group, the show received wide acclaim.
"Flower Rains along Silk Road" was staged in Paris last month on January 16 and 17 to commemorate the 50th anniversary of diplomatic ties between China and France. The performance marked the first time in 32 years since the drama was last staged in Paris.
The drama also made its debut on Jan. 11, 2014 at the Peacock Theatre of the Sadler's Wells group, in London, Britain's leading dance house, bringing the oriental artistic experience to British audiences.
The 34-year-old drama was performed by the Gansu Dance Drama and Opera Ensemble. Inspired by the landscape of northwest China's Silk Road and the early Dunhuang Frescoes, the drama focusses on the prosperity and trade along the legendary Silk Road during ancient China's Tang Dynasty (618-907).
The story depicts the friendship between a Chinese artist surnamed Zhang and a Persian merchant, and the love story that emerges between Zhang's daughter Yingniang and the merchant.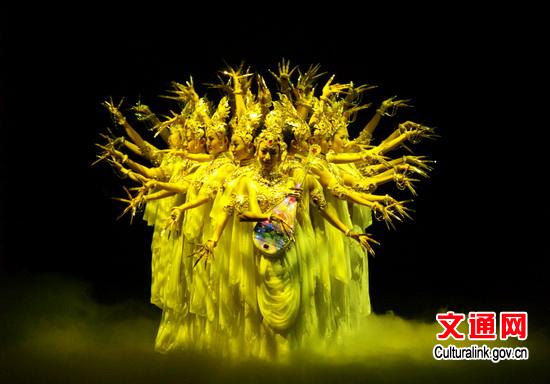 Dancers perform in the "Flower Rains along Silk Road" in Paris.
Set in the Sanwei Mountains, a place blessed with thousands of Buddhas and illumated by holy lights, the performance follows a painter's daughter who is kidnapped after they help save the life of a Persian businessman along the Silk Road.
Liz Whiu took her family to watch the drama in London and said it was strongly characterized and, "The Chinese drama is fundamentally the same with the British one, just with different characters. But the different characterizations bring different culture. It's very difficult to say what's the most enjoyable part, I'm just following the story, and the choreography and music are very well, and the contrast of the different elements and different moves are very interesting," she added.
John M Cruickshank, a British lawyer, found the drama to be colorful and said, "It seems familiar, as the theme of the story is not just Chinese, but universal."
To date the musical drama has been performed in 30 countries and regions and 400 cities to audiences of more than 4 million since it was first written in 1979. It was later adapted for the silver screen in 1982.
Edited and translated by Wen Yi