Venue: National Centre for the Performing Arts - Opera House
Dates: Feb. 19, 2014-Feb. 22, 2014
Price: VIP/580/520/460/400/280/180/100 RMB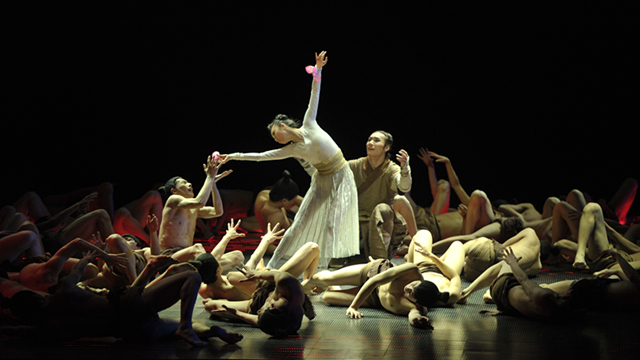 The dance drama Thousand-Hand Bodhisattva is the latest work of Zhang Jigang, a famous Chinese choreographer. It collects all the excellent artists in various regions of dance drama in China, and by telling about buddhism story of Thousand-Hand Bodhisattva, it displays the noble spirit of harmony, benevolence and self-sacrificing love of the nation. "With kindness in heart, and love in heart, you are going to stretch out thousand hands to help others. With kindness in heart, and love in heart, thousand hands are going to help you."
Playwright/Choreography/Director: Zhang Jigang
Music: Dong Yuexian
Stage Design: Wang Ruiguo. Wang Ruibao
Costume Design: Song Li
Lead Dancers: Zhang Aoyue, Bo Yujie, Zhang Jian, Sun Nan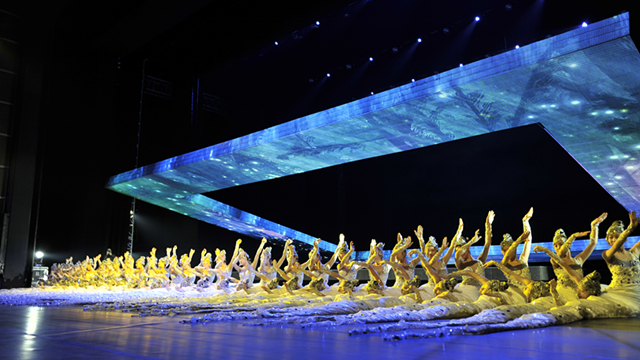 Zhang Jigang Chief Director
Zhang Jigang is a famous contemporary choreographer and educator in China. He serves as President of PLA Academy of Arts, with military rank of Major General and professional titles of professor and tutor to Graduate Student. He takes such posts as National Grade-A Director; Member of the Eighth China Federation of Literary and Art Circles National Committee, Chairman of China Special Art Committee and Vice Chairman of Chinese Dancers Association. He is not only the only winner of honorable title of 'Star of the Century' in Chinese dance circle, but also a winner of 'Chinese Nation's Dance Classics of the Twentieth Century'. He was deputy chief director of both opening and closing ceremonies of the Beijing Olympic Games and executive chief director of both opening and closing ceremonies of the Paralympics in 2008. And he is chief director of Road to Revival (a large-scale music and dance epic for celebrating the 60th Anniversary of the PRC).
Zhang Jigang serves as chief director of large-scale national and international evening parties about 70 times, and creates more than 500 dance works. His representative masterpieces include: dance works The Thousand-hand Avalokiteshvara and Yellow Land, etc; acrobatic work Ballet on Shoulder—Oriental Swan, etc; dance plays Wild Zebra, Wild Jujube and Flowers; musical play White Lotus; large new epic Peking Opera work Red Cliff; large-scale Shanxi-dialect talking and singing play Liberation; large-scale music and dance works My Dream, Diary of A Soldier and Oath to the Sun; large-scale music and dance epic Strive for Justice and Peace and Road to Revival, as well as Let's Go Hand in Hand on opening ceremony of the Far East and South Pacific Games for the Disabled, etc. Most of his works have been staged or transplanted in more than 60 countries and regions. Zhang Jigang wins the highest award of international competitions nine times and national gold awards forty times. His works are repeatedly listed in 'Top Ten Quality Repertoires' in National Stage Art Masterpiece Project.
we recommend: