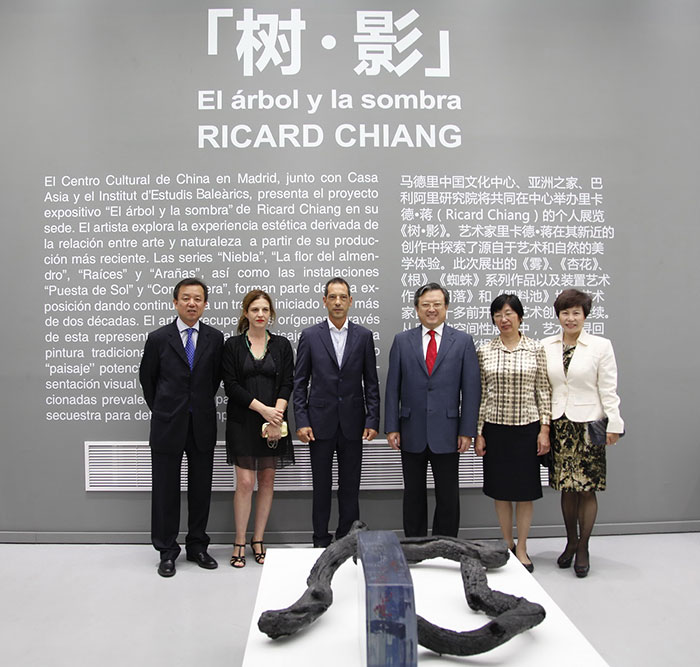 Spanish artist Ricard Chiang's art exhibition, The Tree and The Shadow, opened at the China Culture Center in Madrid, capital of Spain, on Oct 2.
The exhibition, which will last through Oct 31, mainly displayed his most recent works, including Fog, The Flower of the Almond Tree, Roots and Spiders, as well as the installations Sunset, Compostera and Shadows.
Ricard Chiang, born into a family of Chinese and Western heritage in Barcelona in 1966, has lived in the Balearic Islands for more than 40 years.
Endowed with excellent artistic gifts, Chiang taught himself painting and has won many awards and merits in art competitions.
His art works are unique, blended with superb Western painting skills and classical elements of traditional Chinese paining, which enable him to enjoy a high reputation in Spanish art circles.
Luo Jun, director of the China Cultural Center, said that Chiang's works not only grasp the essences of traditional Chinese painting, but also demonstrate the natural beauty of the Balearic Islands.
The opening ceremony was attended by more than 70 guests from China and Spain, including Chinese Ambassador to Spain Zhu Bangzao, , Director of the Institut d'Estudis Baleàrics Antoni Vera Alemany, Director of Culture and Exhibitions of Casa Asia Menene Gras, as well as local celebrities in the fields of culture, art, and media.
The exhibition also helps enhance culture exchange and dialogue between China and Western countries.
We Recommend:
| | | |
| --- | --- | --- |
| | | |
|  Chinese films won major awards at the 11th Abuja Int'l Film Festival | Places less traveled  | Lost relic from Yuanmingyuan bids high at Sotheby's sale  |