Ingredients:
Pork shank/Trotters 900 grams
Pork shank ingredients
1.Star anise 3pcs
2.Sichuan pepper 1tsp
3.Sand Ginger 6 pcs
4.Cinnamon 3 pcs
5.Bay leaves 6 pcs
6.Tsaoko(Cao-Guo) 1 pc (slightly beat it )
Pork shank seasonings
1.Ginger 2 slices
2.Table salt 1 Tbsp
3.Granulated sugar 1 tsp
4.Fish sauce 2 Tbsp
5.Shuanjing, or jiu jiang shuang zheng jiu, a well-known liquor produced in Guangdong province and widely used in Guangdong cuisine) 100ml (divided by 3 times)
6.Tape water 1600ml
Garlic vinegar sauce (dipping)
1.Chopped garlic 2 tsp
2.Table salt 1/4 tsp
3.Granulated sugar 1/2 tsp
4.White vinegar 2 Tbsp
5.Drinking water 1 Tbsp
6.Chopped hot red chilli 1/2 tsp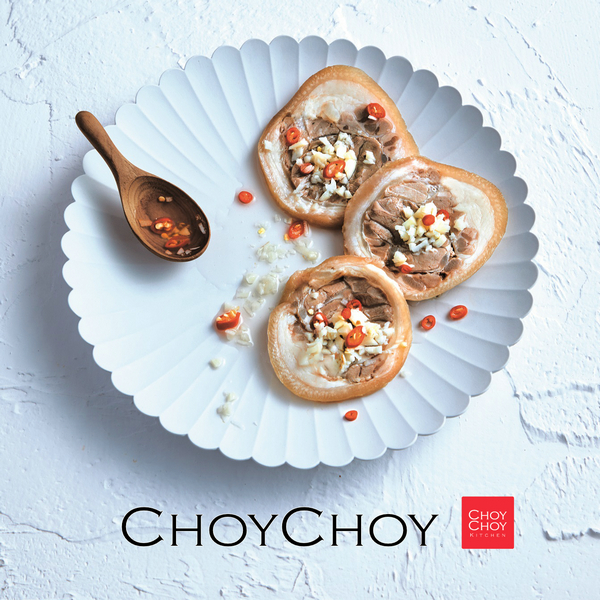 Preparation and Steps:
1.Put ingredients into a fish bag and rinse it;
2.Wash pork shank, blanche for 10 mins then take it out;
3.Add water to the pot, use high heat, put Pork shankbag, seasonings into boiling water;
4.Add 30ml Shuanjing and pork shank (water level should cover the pork shank) stir it, then turn to medium heat to boil 40 mins;
5.Turn off the heat, add another 40 ml Shuanjing cover the lid, soak for overnight or 8 hours;(do not stir during soaking);
6.Mix garlic vinegar sauce ingredients together and keep refrigerate;
7.High heat to reheat the pork shank,turn off when boiling;
8.Add the rest 30ml Shuanjing. slightly stir it and let it cool down;
9.Use knife to take out the bone, use food plastic wrap to wrap the pork shank few layers firmly in different direction.
10.Finally keep refrigerate until cool.Take out the food wrap and cut slices and serve with garlic vinegar sauce. Enjoy!
Tips:
1.Wrap pork shank firmly in order to have better shape in slices;
2.Can add white pepper into pork shank bag. It will became pepper pork shank;
3.Pork shank can keep refrigerated and last for approximately 2 weeks;
4. Pork shank ingredients, Shuanjing and fish bag can be found in many Chinese herbs store/grocery.