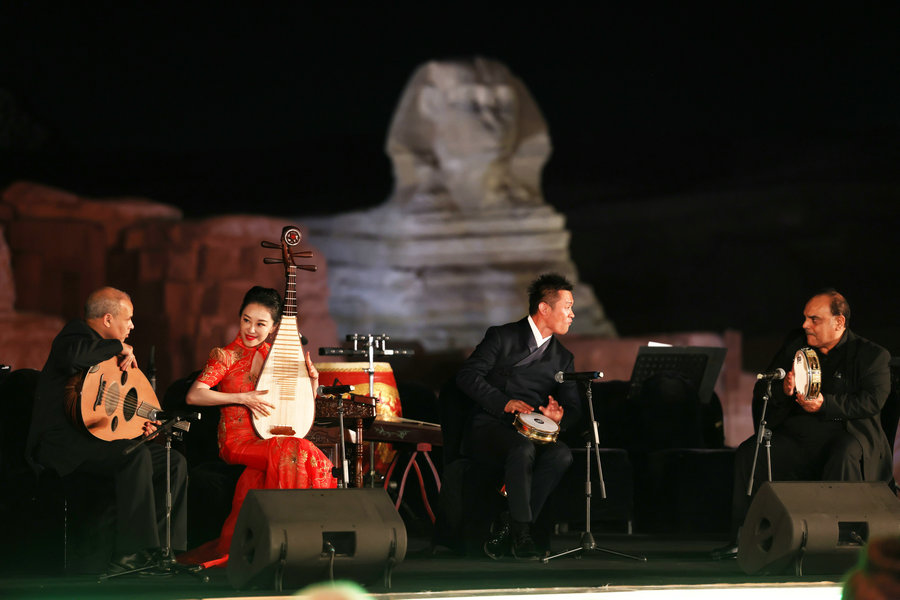 On April 3, artists from China National Traditional Orchestra and Egypt staged a music concert in front of the Great Pyramids and Sphinx in Giza, Egypt.
The concert was opened by a popular Arabic song titled Darling You Are the Glow in My Eyes, performed by China National Traditional Orchestra. The orchestra also performed Chinese music pieces, such as Toward Brightness, an erhu solo composed by Liu Tianhua in 1931 and Ta Ge Xing, by composer Ma Jiuyue.
Chinese and Arab artists also jointly presented a music piece, Impression of Roses, in which the Chinese pipa, a Chinese lute with four strings, was played in an ensemble with the Arabian oud as a tribute to the two ancient civilizations through music.
According to Zhao Cong, a veteran pipa player who is also the president of China National Traditional Orchestra, the concert in Egypt celebrates the resume of international cultural exchanges.
Before the concert in Egypt, the orchestra performed in Spain in the end of March, kicking off the 2023 China-Spain Year of Culture and Tourism.