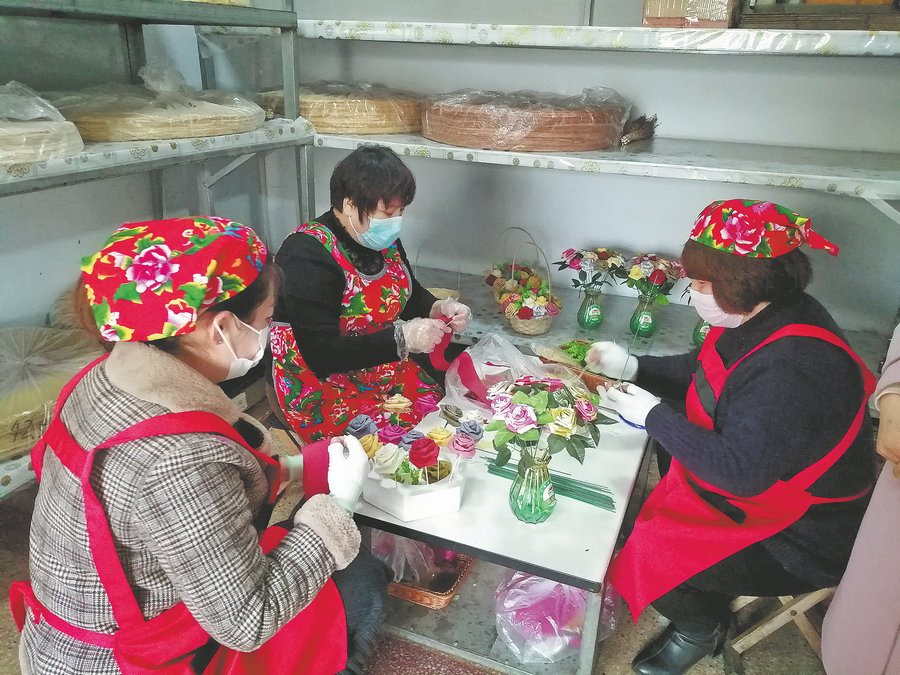 Whimsical art creations appeal to the eye and you can eat them if you want to.
As Spring Festival approaches, Xu Haixia, 53 - a maker of Chinese pancakes in Mengyin county of Linyi, Shandong province -becomes a master artist in high demand for her three-dimensional pancake flowers and other creations.
Last year, Xu copied world-famous paintings using pancakes,including Vincent van Gogh's Sunflowers, and won many fans.
Ahead of the holiday, pancake flower sales have tripled, Xu said, as people buy baskets of the intricate edible art for relatives and friends.Her work is both appetizing and appealing to the eye, she said.
Xu has been making pancakes - a thin paperlike food made of grain -for 15 years.
"Pancakes are a staple food for three meals a day in our village, so I chose to make and sell pancakes,"she said.
Her business is going well as she continues to innovate and present new pancake products.
Pancakes are the signature snack locally, and yellow peaches grow in abundance. Virtually every family has peach trees, so Xu tried to make peach-flavored pancakes.
"At the beginning, I used big crunchy peaches, but those pancakes didn't taste good," she said.
Then she added more peaches,only to find that the pancakes were hard to flip. At last, she tried squishy, ripe fruit and the peachy pancakes came to life.
"So far, I have made more than 50 flavors of pancakes using fruits and vegetables,"she said.
Her pancake products come in several natural colors, depending on the ingredient, such as dragon fruit, red jujube, pumpkin, black sesame seed, celery and, of course,peaches.
Four years ago, thinking about all those colors, she got the idea of making pancake flowers.
"I loved to embroider flowers when I worked in an embroidery factory, so I wondered whether I could make these colorful pancakes into flowers," she said.
Her ideas were met with skepticism by her husband and fellow villagers at the beginning.
"I told her there was no way to work it out because the pancakes are too crispy. How can crispy things be made into flowers, which need to be twisted and folded," said Zhao Jian, Xu's husband.