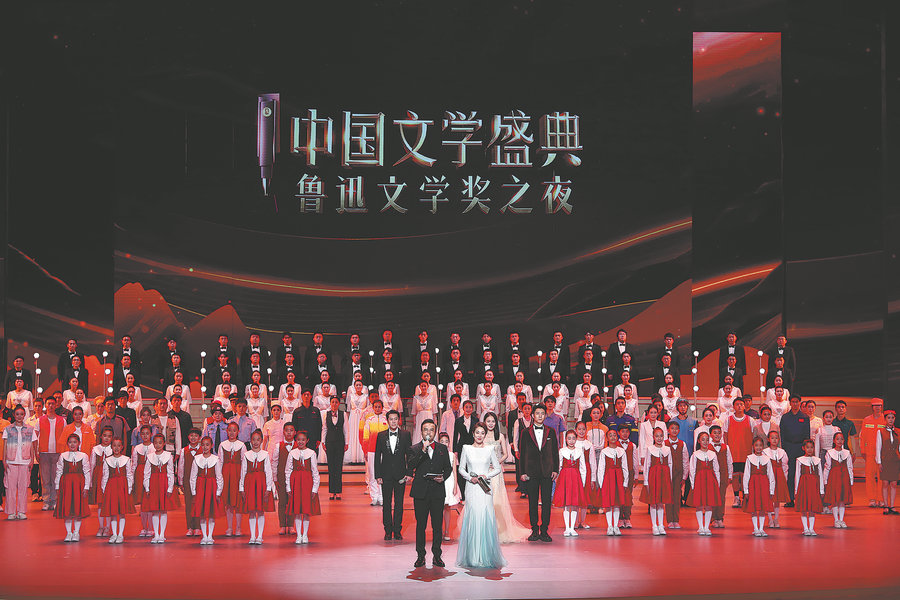 Top literature award given every four years covers diverse categories, Fang Aiqing reports.
Anomad has found his settlement in the wide open and fertile plains of literature.
Sonam Tsering, a laureate of this year's Lu Xun Literature Prize, one of the country's most prestigious awards, shared his first encounter with literature in Beijing on Sunday.
The 37-year-old recalled his time herding hundreds of sheep on the pasture, reading and writing while surrounded by nature's majesty, before taking them back to the fold.
He was born to a nomadic Mongolian family in Haibei Tibetan autonomous prefecture, Northwest China's Qinghai province.
After dropping out of school at the age of 12, he used to doze to kill time as a shepherd until he found a kung fu novel — tattered and missing its front and back covers — at his uncle's home.
It changed his life. Years later, he brought the draft of his first novel to town on a motorcycle. Fearful of being mocked, he dropped the draft in a mailbox right across the copy desk of a local literary magazine as he was too shy to hand it over in person, and went back.
Impressed by the vividness of his work, Zhao Yuanwen, editor-in-chief of the magazine at the time, went to the pasture three times to find Sonam Tsering. All to no avail. It was as if the pasture was hiding the talented writer.
Half a month later, the duo finally got to meet and discuss the work. Zhao helped the young man polish his novel and taught him the basics of writing until it got dark.
The novel was published in April 2006. The young man was obviously thrilled that his writing would reach readers. This sense of excitement about writing remains evident today.
Sonam Tsering expressed his gratitude for Zhao, his literary mentor, during the award ceremony on Sunday. He won the prize for the novella On the Wasteland, a story of six herders going into the mountains to kill rats and protect the pasture. It highlights the influence that modern development has on nomads.
"The novella has always been a distinct and powerful section of the Chinese literary landscape, where a number of classic works, with a national consciousness and realistic spirit, have emerged.
"The harvest of novella works has the echoes of human destiny," Sonam Tsering says of works by modern writers like Lu Xun and Shen Congwen that have led him to embrace the image of the time and the subtleness of life.