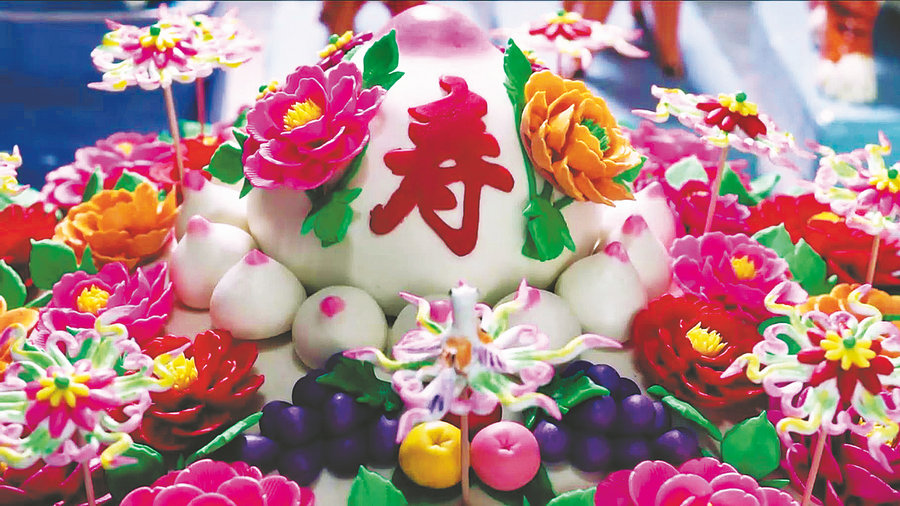 Flower-shaped buns have a proud heritage and look set for an appetizing future, Yang Feiyue and Sun Ruisheng report in Taiyuan.
Seen from afar, they are decorative polychromatic flowers, placed front and center at dining tables to feast the eyes.
Yet, these are different. After guests take their seats, they reach for them and start to dig in.
These flour and flower-shaped buns, or huamo, can be traced back to the Ming (1368-1644) and Qing (1644-1911) dynasties.
Whenever celebrations or major events take place, people in Wenxi county, North China's Shanxi province, roll out huamo to entertain guests for auspicious outcomes in the future.
The flour feat and treat has been known for its exquisite design and ingenious conception. It is closely related to local etiquette and customs and widely used in festivals, weddings, birthdays, funerals, housewarming and many other occasions.
"I grew up watching my grandmother and mother knead the flower-shaped buns on the bed with their legs crossed," says Zhi Jiankang, a provincial inheritor of the skill that was named a national intangible cultural heritage in 2008.
"I learned to make it after watching them."
Wenxi huamo has evolved into four categories with more than 200 varieties over the years.
"It takes a few people two days to make a large flower pattern," Zhi says.
The dough is leavened on the first day, and is kneaded into various shapes and sizes after a night of fermentation before being left to sit still for another night.
"When fermentation is completed, the buns are steamed and then colored with fruit and vegetable juice," Zhi explains.
For some major events, various "bun flowers" would then be assembled.
The importance of huamo is evident in a local proverb: "if something big happens, there is huamo; if huamo is served, something must have happened."
Local families will steam the flowery buns to celebrate births of children to wish them good health, and dragon or phoenix patterns will be fashioned amid "bun flowers" during weddings to herald progeny.
"Wenxi flower-shaped buns present a variety of forms, and are always closely connected to local folk culture," Zhi says.
Different from traditional dough modeling that is mostly just for artistic appreciation, huamo will be eaten by guests after serving their symbolic purpose.