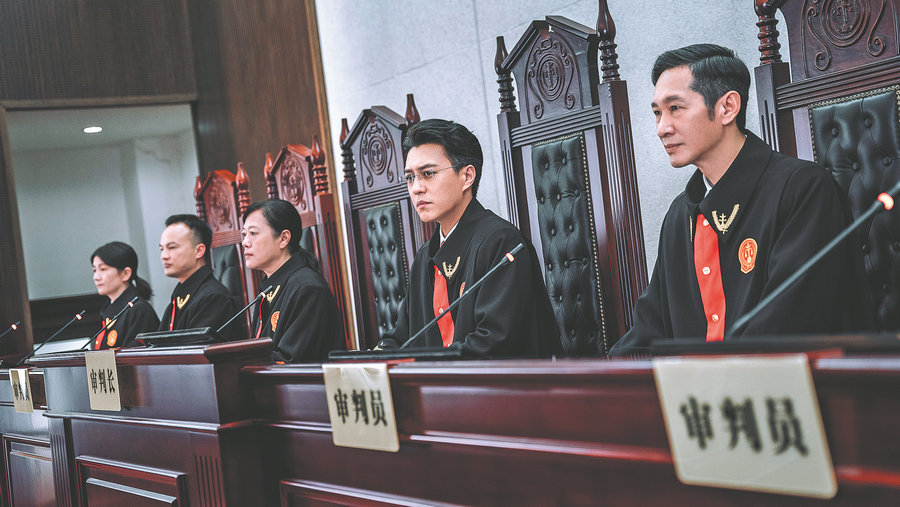 TV series gets a favorable verdict for its coverage of judges at work, Xu Fan reports.
When the popular TV series Draw the Line was shot in Hunan province earlier this year, three special "staffers" supervised every detail throughout the entire shooting, which lasted more than 150 days.
They are all judges from Changsha Intermediate People's Court. Temporarily putting aside their presiding over trials, the trio — made up of two middle-aged veterans and a young female judge — were invited as consultants to help the crew ensure that all elements, from props to the set decoration, matched reality.
"In the first few weeks, we shot for at least 15 hours every day, hence their workloads were very intensive," director Liu Guotong told China Daily in a telephone interview. "Sometimes, the judges even helped us write some dialogue, as their depictions could be more accurate."
As the first of its kind to panoramically showcase the country's achievements in judicial reform, the legal drama has been broadcast on Hunan Television and several streaming platforms, including Mango TV since Sept 19.
With guidance from the Supreme People's Court, China's highest judicial organ, the television project produced by Changsha-based Xiaoxiang Pictures was launched in 2019, with the tale co-penned by scriptwriters Fei Huijun and Li Xiaoliang.
In just over a year, the creators traveled to seven cities, including Changsha and Hengyang in Hunan province, Hangzhou in Zhejiang province and Shanghai, to interview more than 200 judicial staffers in over 60 courts and collect more than 500 cases from which to seek inspiration.
The full cast and crew comprised around 400 people, who shot the outdoor scenes at over 170 locations in Changsha, and the indoor scenes on more than 40 newly constructed sets covering a total area of 3,000 square meters. A total of 10,000 costumes and 30,000 props were made for the drama, according to the producers.
With a fast pace, the TV series, starring Jin Dong, Cheng Yi and Cai Wenjing, recounts nearly 50 cases in its 40 episodes, covering everything from trivial quarrels to notorious cases, some of which reach into the darkest corners of humanity.
Such cases include that of a husband, who once pretended to be dead to escape his debts, and a mother suing a close friend of her daughter, who was murdered to protect the selfish friend.
How the rapidly expanding internet sector has created new careers, causing new problems, is also reflected in the drama, says the director.
For instance, one lawsuit recounts parents claiming 1 million yuan ($139,200) compensation from a livestream company, after their daughter — a livestream host — died of exhaustion from overwork. However, the young woman didn't sign a labor contract with the company. With new evidence appearing to show that the parents pressured the daughter for money, the case takes some thorny twists.
"A livestream host is not a traditional profession. So, how to define this new type of labor has been a challenge for judges," Liu explains.