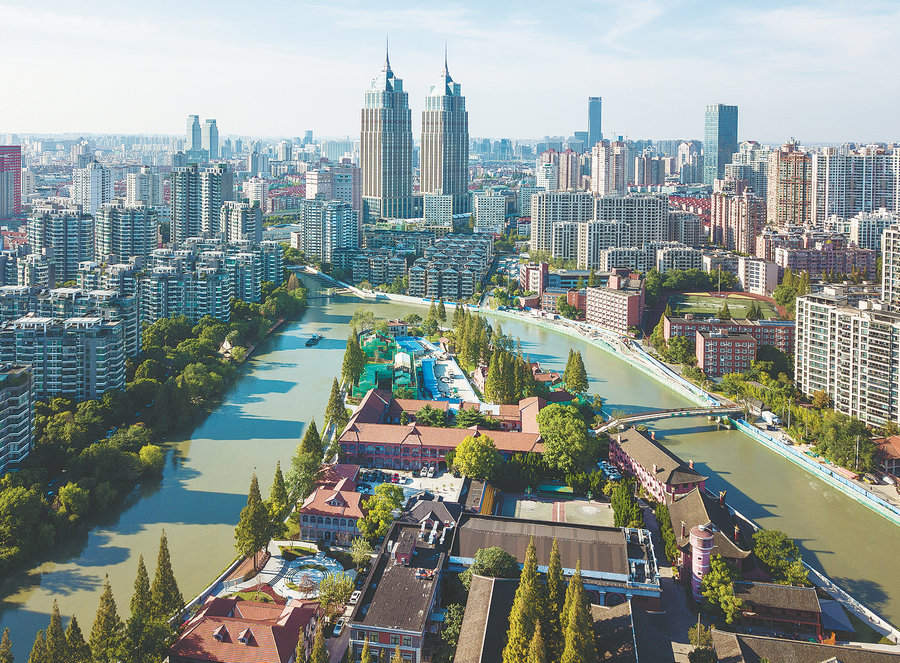 Boat tours give visitors a unique experience and close-up view as world-class attraction starts to take shape and city turns into a venue with sights to savor both on land and water, He Qi reports.
Think of the world-famous tourist cities that usually have a well-known waterfront where visitors can take in the view. For instance, the Hudson River in New York or the meandering Thames in London. Shanghai, with two rivers, is developing tourist water routes to Suzhou Creek, an important body of water zigzagging through the city and running into the Huangpu River on the Bund.
Marking the opening of the 2022 Shanghai Tourism Festival, Shanghai Administration of Culture and Tourism launched vessel tours of Suzhou Creek on Sept 17.
Four out of eight piers, where passengers can embark and disembark, have been put into trial operation.
The four piers connect the first phase of the operations from Changfeng Park in Putuo district to Waitanyuan in Huangpu and pass through Changhua Road pier in Putuo and Sihang Warehouse in Jing'an district.
The 17-kilometer journey lasts about two hours.
The remainder of the piers, Xikang Road, Mengqing Garden, Zhongshan Park, and Danba Road, will be put into use by the end of this year, the administration announced.
"Considering many factors, including the narrow channel, low bridges, many sharp turns and shallow water, the first batch of 12 will be put into operation," says Fang Shizhong, director of Shanghai Administration of Culture and Tourism.
Fang adds that the 12 vessels include six small-sized boats with open-top designs that are able to carry 11 passengers and six medium-sized ones with covering panoramic glass windows and toilets, carrying 20 passengers.
All the vessels will be put into operation by the end of this year.