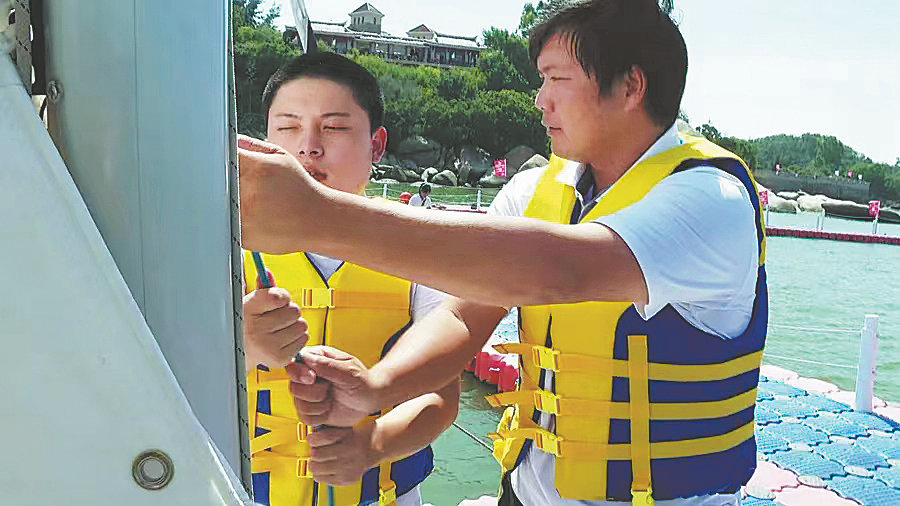 In May 2013, the first 20 such children and their families attended a sailing excursion he organized. After doubling his efforts to keep the young sailors focused on instructions about the basics of sailing, Li says he faced some difficulties when trying to help them walk through a pontoon which was more than 20 meters long.
"It was a few seconds of walking for me, but it took these children more than 20 minutes, because they tended to get overwhelmed by the environment," Li says, adding that there were lots of cries and screams.
"But things began to change when the boat sailed on the water," Li says, adding a boy of 6 even took off his shoes and socks and put his feet into the water.
"The boy smiled at me," he says, adding that the smile reinforced his decision to have the children experience the joy of sailing.
Since 2013, thousands of children with autism have gone sailing as part of his project and most have been absorbed in the activity.
"Through sailing, some children start to try to communicate and cooperate with others. It is a good sign from isolation to integration," Li says, adding he even received handcrafted gifts from some students.
In late 2017, Li set up Star Sailing's team consisting of seven teenagers with autism who are talented sailors. The team debuted at a sailing race organized by Li in October 2018 and raised 20,000 yuan ($2,794) to fund a local autism organization.
Li is organizing another sailing race expected to be held later this year, which will see participation by the Star Sailing team.
"I wanted to create opportunities for the team to be seen by more people, and in this way, to increase public awareness and conversations about autism, and help to break down stigmas," Li adds.