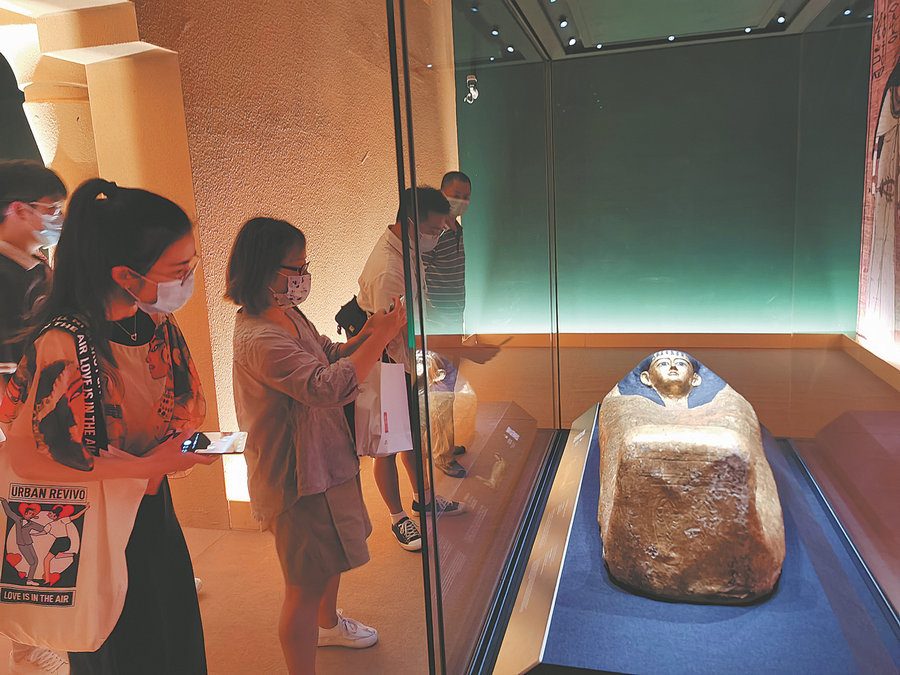 Artifacts provide a fascinating insight into the land of the pharaohs, report Huang Zhiling and Wan Zhigao in Chengdu.
The mention of Egypt immediately conjures up images of pyramids, sphinxes, mummies and the mask of Tutankhamun.
But going abroad to visit popular museums in the aftermath of the COVID-19 pandemic is not easy.
Help, though, is at hand. Visitors to the Meet Egypt: The Exhibition of Rare Relics and Mummies held at the Meet You Museum in Chengdu, Sichuan province, running until Nov 13, may find that the 114 exhibits on display from the Egyptian Museum of Barcelona, Spain, convey a sense of the country's ancient mystery.
Representing the spectacle of civilization in the Archaic Era of Egypt, or the Early Dynastic Period, more than 4,000 years ago, to Roman rule in the fourth century AD, the exhibits include a gilded mummy case (which covers the body inside the sarcophagus), five wooden mummy cases, five mummified animals, one animal mask, 10 ancient statues and four canopic jars (used to store organs). Also on display are six scarabs (amulets or seals), 11 pieces of jewelry, three weapons, three musical instruments, two murals as well as 63 items of pottery, bronze ware and carved stone.