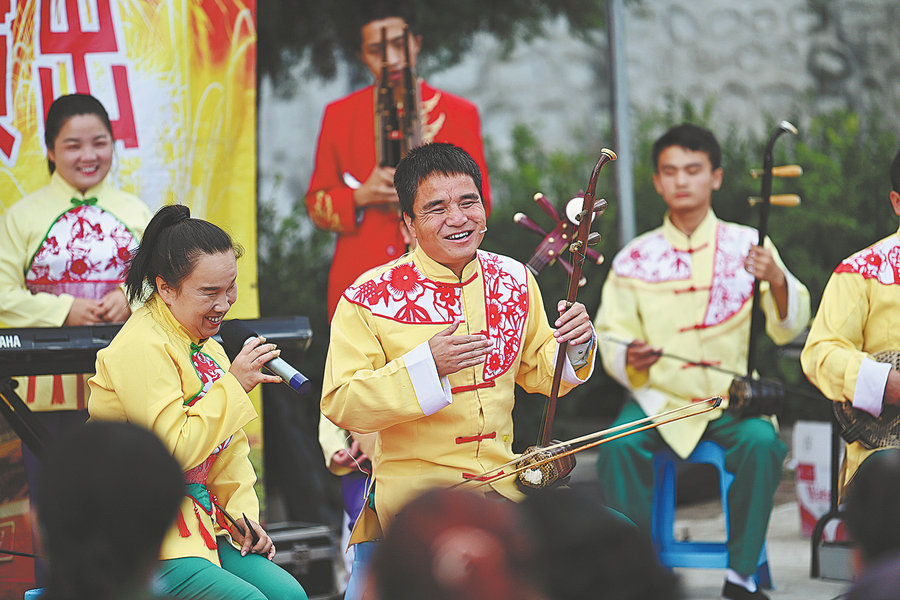 Besides acts depicting well-known Chinese legends and folktales, the troupe has created new shows based on government policies, and the country's tremendous changes and milestone moments, such as the 100th anniversary of the founding of the Communist Party of China.
Jin, who joined the troupe in 1989, has been a musician and guide for the other members.
She says the troupe has faced many difficulties over the past decades.
In 1995, the troupe set up the town's first class for visually impaired children and provided them accommodation. Its curriculum covers math, Chinese, Braille, music and quyi. Since the first eight students, more than 100 children have studied in the class.
Under the instructions of troupe members, the students prove that they can learn to play a musical instrument just as well and often even better than others without visual impairment, because they have a strong sense of rhythm and musical sensation and talent.
Now, the troupe has 56 members, divided into four performing groups. With local government support, the troupe works out of a building of some 2,000 square meters.
Their efforts and achievements have helped raise public awareness about visually impaired people. The Lingchuan Town Library opened the town's first barrier-free reading room for people with visual difficulties. It is equipped with Braille versions of published books, book-reading machines and computers.
The total number of people with disabilities nationwide has reached 85 million, including 17 million with visual impairment, according to statistics of the China Disabled Persons' Federation,
In May, China officially joined the Marrakesh Treaty to "facilitate access to published works for persons who are blind, visually impaired or otherwise print disabled". It requires nations that sign up to create limitations and exceptions to copyright law to make it easier for those with poor or no sight to access printed works in formats such as Braille.
"By reading (Braille), our musicians can learn more about the outside world," Jin says.