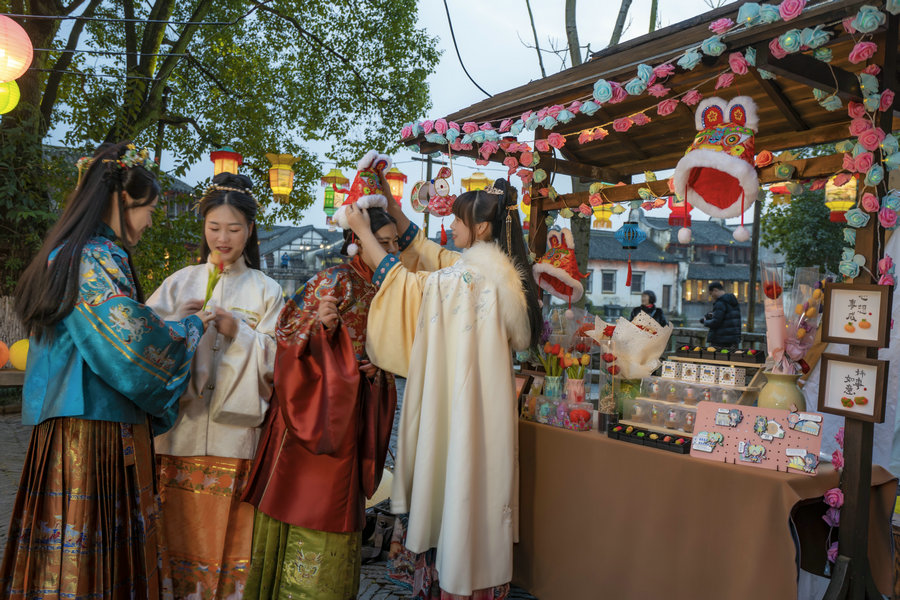 Wuzhen scenic spot in Zhejiang province has launched a series of events in celebration of this year's Mid-Autumn Festival from Aug 26 to Sept 12.
An outdoor market will run from Sept 1 to 12, recreating the scenes of ancient times with decoration and displays. Visitors are invited to don hanfu (a traditional Chinese apparel) and participate in activities including making mooncakes, sachets and lanterns.
Wuzhen also collaborates with Fei Ren Zai, an animation series based on the ancient text The Classic of Mountains and Seas, and invites the visitors to engage in a treasure hunt game in the town.
As the festival involves mythological stories centered on the moon, the scenic spot is calling for entries on Sina Weibo for ancient Chinese culture and cosplay enthusiasts to dress up as the "moon goddess" and compete for prizes.
Other regional customs of the festival, including outdoor banquets and a ceremony to pray for blessings, will also be hosted.