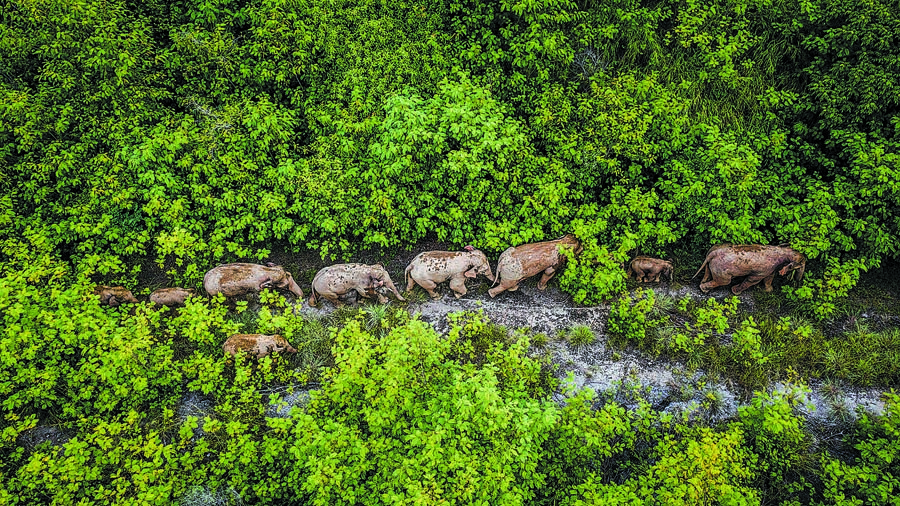 March of the elephants
Sometimes animals make headlines. One typical example is the march of a group of Asian elephants travelling northward from Xishuangbanna Natural Reserve in March 2021. The elephant group travelled for almost 10 months, gave birth to a baby on the way, and did not reach their traditional inhabitant zone in Pu'er city until November.
For many years, even most locals in Southwest China's Yunnan province had never seen elephants in the wild. The march of the elephants attracted attention from not only local residents, but also media outlets from all over the world, which followed their journey.
There has been much speculation about the reason for the elephants' march. Fan Zhiyong, former chief expert of World Wildlife Fund, said that it might have been due to inadequate herbage plants in their habitant zones, while local researchers in Xishuangbanna guessed that it might have been triggered by climate change.
Whatever the reason, the locals have shown a very high sense of wildlife protection in the process. According to reports, in their eight months' travel, the elephants destroyed many crops, even some houses, but no one tried to assault the elephants. A local elephant monitoring staff member even said that increasingly more elephants dared to collect food from agricultural farms because they sensed the friendliness of the local residents.
Nationwide efforts
Behind all these heartwarming stories are the efforts rendered by the whole nation. According to the National Forestry and Grassland Administration, large numbers of rare species have come back or grown in numbers again since the 18th National Congress of the Communist Party of China in 2012. A total of 206 rare plants are thriving again in the wild, while the number of Asian elephants in the wild has grown to 300 in number and the population of giant pandas has grown to 1,864. Platts wild horses had once completely disappeared in the wild, but there are now 700 of them bred by humans.
Liu from the CSES said that the comeback of many endangered species is an achievement made by many parties. "The protection of the ecology is never the job of researchers or conservation staff alone," she told China Daily. "Local governments have contributed by strictly enforcing the regulations, the fishermen have played their part by only fishing in permitted zones, while the media have raised awareness of the importance of ecological protection."
"There are too many species that have disappeared. Thanks to efforts of all, some have come back," she said. "Let's hope more will follow in the future, and enrich the biodiversity of the world as a whole."