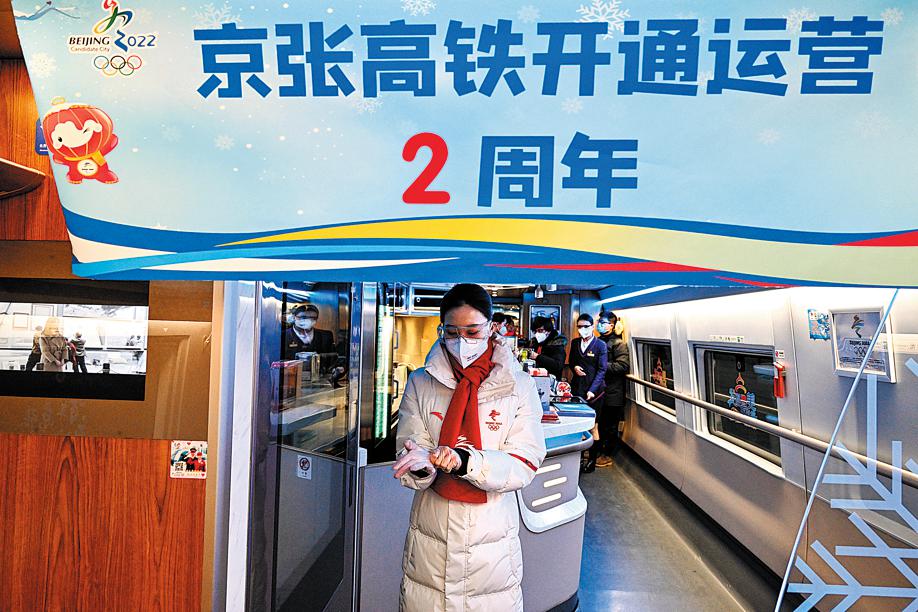 Wu Yifan, 26, is a member of the "Snow Dream" crew on the Beijing-Zhangjiakou high-speed train. The crew members, with an average age of 25, serve on the Fuxing EMU trains from Beijing North to Taizicheng and to Yanqing. In addition to providing daily services, they also undertake foreign language services.
In 2018, Wu resigned from her job in Xi'an to become a conductor in the Beijing passenger section of the China Railway Beijing Bureau Group. On March 1, 2020, the Beijing-Zhangjiakou high-speed railway "Snow Dream" crew was officially established, and Wu was one of the crew members. Her childhood dream of helping in the Winter Olympics gradually became reality.
"Any line of work or post has two sides: an ordinary one and a fantastic side. We're just a small part of the crowd. Be kinder to the world, and the world will repay you with kindness." In the last days of 2021, Wu pinned those words on Weibo, China's Twitter equivalent. As always, before 6 am, she began to prepare for the day ahead: washing, putting on makeup, changing clothes and checking protective equipment.
Before departure on Dec 30, she specially arranged her Winter Olympics-themed dress, and once again recited in her mind the Chinese and English speeches specially prepared for the second anniversary of the opening of the railway.
The motto "no pain, no gain" is Wu's life creed. She continued her in-depth study of English, sign language and the knowledge of the Winter Olympics, and received comprehensive training on service, etiquette, communication skills, epidemic prevention and control, and emergency response.
In the staff dormitory, every door is fixed with famous English posters carefully designed by Wu. She also learns English via online classes. As the Winter Olympics approach, greater emphasis is placed on vocabulary and knowledge related to the Winter Olympics.