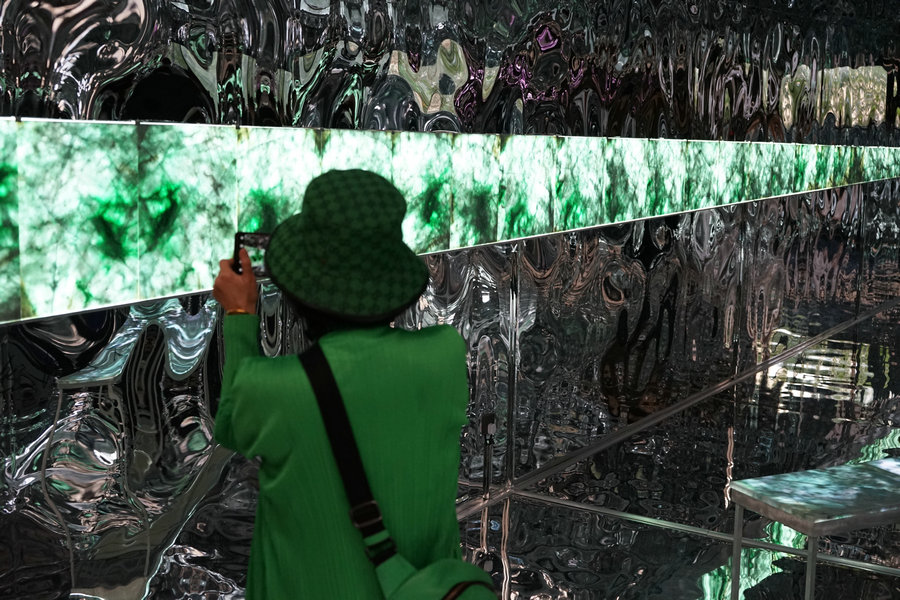 For the past three decades, He Yunchang has won fame for using performance art to address social concerns. In the past five years, the contemporary artist has focused his work around jadeite, a mineral carrying important cultural meanings in the long history of China.
He Yunchang: Endless Shadowlands, an exhibition curated by Su Zhen Xie and on at the Wind H Art Center in Beijing until Dec 19, takes the audience upon a journey through time and space, history and culture, navigated by He's jadeite sculptures and installations.
He's explorations with jadeites began after a trip in 2017 back to his hometown in Yunnan province, known for its booming jadeite trade. He noticed the changing cultural and historical implications of jadeite -- from a sacred material for ritual vessels in archaic times to a common material to decorate everyday life.
Works on show are made of or assembled by pieces of rough jadeite but with as little manual work as possible, to accentuate the quality, texture and energy of the material itself.
Flowing with poetry and imagination, the works reflect He's philosophical thinking on love, attachment to his hometown, and how individuals are shaped by the world and, in return, shape it. He sees the exhibition as a performance work to renew people's understanding of artistic creation and performance art.