Castle in the Sky represents a pure and flawless dream decorated with fantasy; it is simple yet magnificent, plain yet colorful. This musical piece conveys the relentless pursuit of dreams, as the ethereal xun (Chinese ocarina), the lingering of the xiao (Chinese vertical bamboo flute) and the tranquility of the bamboo flute express the courage of dream chasers everywhere.
Composer: Joe Hisaishi
Adaptation: Yu Fan
Pan Flute: Ma Yunhe
Bamboo Flute: Sun Chubo
Xun: Zheng Peng
Xiao: Huang Kai

Venue: The Bulgari Hotel Beijing
Blending art with nature, the Bulgari Hotel Beijing rises within the new Genesis complex in Chaoyang district of the capital, which includes state-of-the-art office towers, a vibrant public space and the Genesis Art Foundation. It is surrounded by luxuriant, sculpted gardens, making the place a benchmark for enlightened luxury living.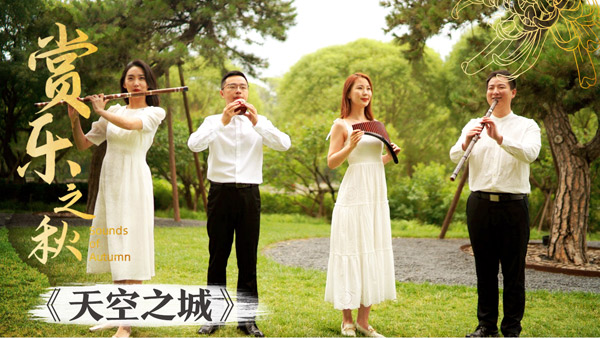 Related:
Sounds of Autumn music series: 'Flying Birds'
Sounds of Autumn music series: 'Super Mario Bros'
Sounds of Autumn music series: 'Big Fish' quartet
Watch Sounds of Music series first on:
YouTube: http://www.youtube.com/cnoddt
Facebook: https://www.facebook.com/CNODDT