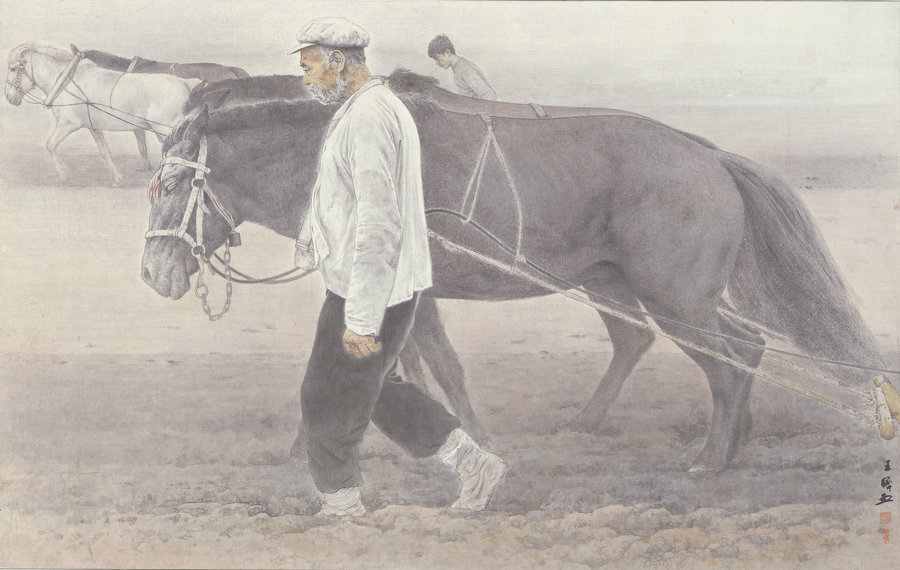 The late artist Wang Shenglie did a painting in 1984 depicting an old farmer walking his horse to plough the land. In the work titled Tiller, Wang presented the peace and tranquility of the old man, and he also expressed great compassion for Chinese farmers who worked diligently for generations, as well as a wish for harmony and prosperity in rural areas.
Wang's oeuvre, rich in humanity and concern for the people, has elevated him as one of the most illustrious realistic painters of 20th century China.
The Tiller, an exhibition at the National Art Museum of China until Aug 8, navigates Wang's career through a display of some 130 works from the artist.
In 1950, Wang painted a work to depict the heroic deeds of eight female members of the Northeast Anti-Japanese Allied Army, who took their own lives by jumping into a river when surrounded by Japanese soldiers during the War of Resistance against Japanese Aggressions (1931-45).
In 1990, Wang made a reproduction of this iconic painting, titled Banyu Toujiang, which is on show together with two preparatory drawings for the 1950 version.
At the exhibition's opening, Wang's family donated 30 paintings, including Tiller, to the National Art Museum of China.