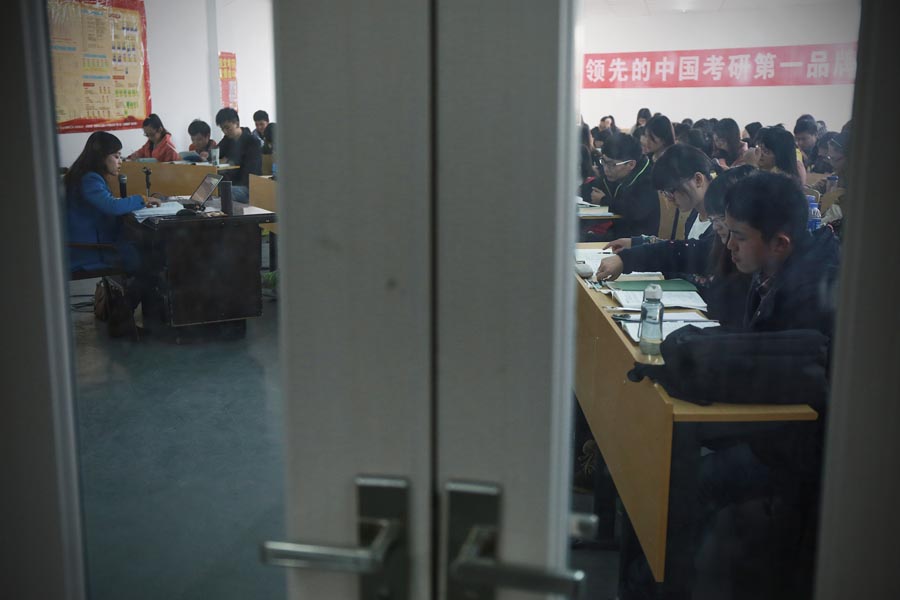 A tutoring class for postgraduate entrance exam is packed with more than 300 students. [Photo by Chen Dong/for China Daily]
Due to the prevention and control of the epidemic, students participating in the postgraduate entrance examination this year must start monitoring their body temperature 14 days in advance. The body temperature on the test day must be below 37.3 C. It is mandatory that they wear a mask and bring their health code. Some provinces require candidates to provide a negative nucleic acid test report within seven days. For humanitarian considerations, examination centers set up temporary special examination rooms for candidates with fever and cough symptoms.
As a teacher who teaches journalism at Anqing Normal University, I have been photographing postgraduate entrance examinations for nearly 10 years. Whenever I talk about the exam, I think of the words diligence and intensity. The gross enrollment rate of higher education in China soared from 17 percent in 2003 to 51.6 percent in 2019. With the improvement in the country's talent pool, social development requires higher standards in terms of academic performance.