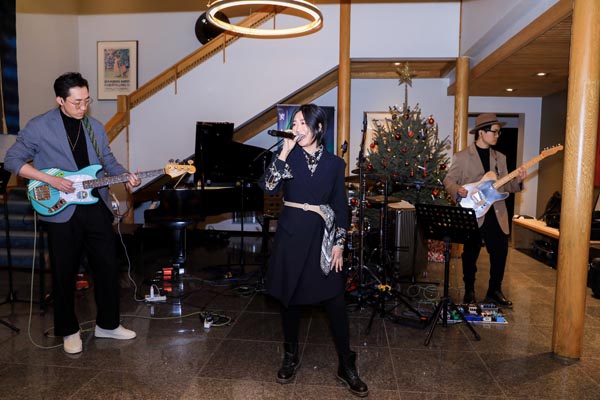 [Photo provided to China Daily]
Norwegian singer's songs in tune with Chinese audience
Norwegian singer-songwriter Bjorn Eidsvag's songs have been adapted into Mandarin by Chinese singer-songwriters, and released on Dec 15 as a compilation album, Norwegian Special: Northern Lights, through online streaming platforms, including QQ Music, Kugou and Kuwo.
The compilation of 10 songs opens with Free Flowers, performed by Chinese singer-songwriter Zhao Zhao. It is adapted from Eidsvag's song, originally titled Evig hvile (Eternal rest). With the song's lyrics and melody both written by Eidsvag, Zhao performed the Chinese version of the song based on the translation by Kim Jarle Wroldsen and Yang Manxi. The song explores issues such as eternity and hope.
Chinese folk singer-songwriter Cao Fang adapted Eidsvag's song, Kan det snu, literally translated as "Can It Turn?" in English, into a Chinese song, called The Place to Rest, which portrays life as a journey.
A day after the album was released, a live event was held at the Norwegian embassy in Beijing. It featured three groups of Chinese musicians performing the songs of Eidsvag in Chinese: Chinese band The CLF performed the song, Vertigo, adapted from Eidsvag's song with the same title, singer-songwriter Yan Zehuan performed the song, The Ending Play, adapted from Eidsvag's song, called Klovnar and singer-songwriter Liu Fengyao performed the song, Lost Memory, which was based on Eidsvag's song, titled Tapte Gylne Stunder (Lost Golden Moments).
"Since all of Eidsvag's songs were originally performed in Norwegian, we had a team doing the translation before inviting the Chinese musicians to adapt the songs into Chinese versions. It was a collaborative project, which promotes the cultural exchange between China and Norway," says Morten Luxhoi, a well-known Danish music producer, who produced the album, Norwegian Special: Northern Lights. "We want to create a platform for artists of the two countries to communicate the work together. Hopefully, this project will enable more Chinese people to look deeper into Nordic culture through music."