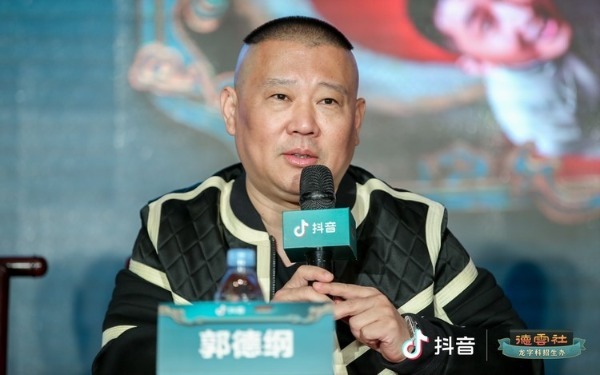 Guo Degang, Founder of Deyunshe [Photo provided to China Daily]
On Dec 18, short-video platform Douyin and crosstalk troupe Deyunshe announced a cooperation agreement on their "Dragon Division Enrollment" plan. Deyunshe will make Douyin its exclusive live-streaming platform for the enrollment, which is estimated to last more than half a year.
Guo Degang, founder of the troupe, said the enrollment will be his last large-scale apprenticeship. He hopes to use the Douyin platform to scout for talents who truly love crosstalk and the performing arts, and help the traditional folk art to be passed down through generations.
Since its establishment in 1996, Deyunshe has been keeping up with trends in stage creation and talent training, and their comedies have become popular among audiences, garnering 60 billion views on more than 134,000 short videos.
Shi Qiong, marketing representative at Douyin, expressed hope that through their platform, audiences who love crosstalk can participate in the enrollment, and also help artists in the troupe raise their profiles.
It is also the first time Deyunshe will complete enrollment live on the internet. Guo said: "In previous years, the admissions notice was first published online, and resumes were screened through email. But many talented people missed out. Our new enrollment on Douyin enables us to have the best recruitment for as many as possible. "
To fully tap this talent pool, Guo will bring more than 100 crosstalk artists to participate live in recruitment across the country. Guo emphasizes he will personally teach and lead the future apprentices. Luan Yunping and Yunhe Jiuxiao, fourth generation artists in the troupe, will also assist in recruitment.
From Dec 22 to 25, every night four leading artists — Zhang Yunlei, Meng Hetang, Zhou Jiuliang and Qin Xiaoxian — will also start live broadcasts to compete for the position of "Director of the Admissions Office". Meng has put forward a suggestion for incoming apprentices - "develop your tolerance for solitude".
The enrollment will further enrich the diverse content on Douyin. Marketing representative Shi said it will help expand the boundaries between different video content and consolidate Douyin's existing star lineup. As of now, more than 3,000 celebrities have settled on Douyin and interacted with fans through various forms of content such as short videos and live broadcasts.