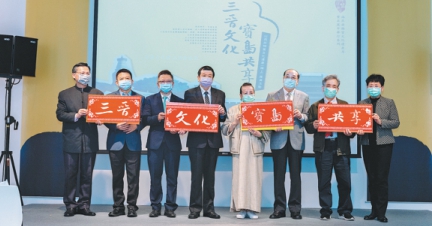 Officials from Shanxi and guests from Taiwan launch the Shanxi cultural heritage show on Dec 11.[Photo provided to China Daily]
Residents in Taiwan province were offered an opportunity to experience the culture of Shanxi, when the province held a promotional event for its intangible cultural heritage in Taipei on Dec 11.
The COVID-19 pandemic forced the event take place both online and offline.
At the offline site in Taipei, Shanxi's intangible cultural heritage items such as lacquerware, paper-cuts and chengni ink slabs were on full display. There were also shows of the processes of making local specialties such as matured vinegar and daoxiaomian-or knife-cut noodles, as well as performances of Shanxi's local operas. The variety allowed Taiwan residents to experience genuine Shanxi culture with all of their senses.
Ren Jiayan, head of the Taipei representative office of the Cross-Straits Tourism Exchange Association-one of the organizers of the event, said Shanxi is one of the sources of the brilliant Chinese civilization and culture, featuring a host of intangible cultural heritage items.
She said due to the COVID-19 pandemic, only a small part of Shanxi's cultural heritage items could be displayed on-site.
"However, visitors can still carefully study all of Shanxi's cultural legacies via the online exhibition,"Ren said.
She added she hopes more tourists from Taiwan can visit Shanxi after the pandemic is controlled to see an authentic Shanxi.
Last week was not the first time Shanxi showed off its cultural legacies in Taiwan, according to Chen Chunlin, chief of Taipei-based Hanya Culture, one of the event's organizers.
Chen has been engaged in cross-Straits cultural exchanges since the 1990s.
In 2001, he organized an exhibition of murals in Yongle Palace in Ruicheng county, Shanxi province, with picture and video shows.
Yongle Palace is one of the largest Taoist temples in China. Its 960-square-meter frescoes on the walls of the main hall, which were created more than 700 years ago, have been praised by art critics and historians as a great representative of mural paintings in China.
According to Chen, the mural show left a deep impression on Taiwan's visitors. Many of them said they were impressed and wanted to visit the site by themselves.
There have been more cultural exchange events between Shanxi and Taiwan in recent years, according to Shanxi's officials.
These events included a noodle show in 2017 and a Shanxi tourism expo in 2018, both of which took place in Taiwan.
According to Li Xiaoxia, a cultural official from Shanxi, Taiwan's visitors were served about 8,000 bowls of noodles during the 2017 noodle show.
Li Yali contributed to this story.