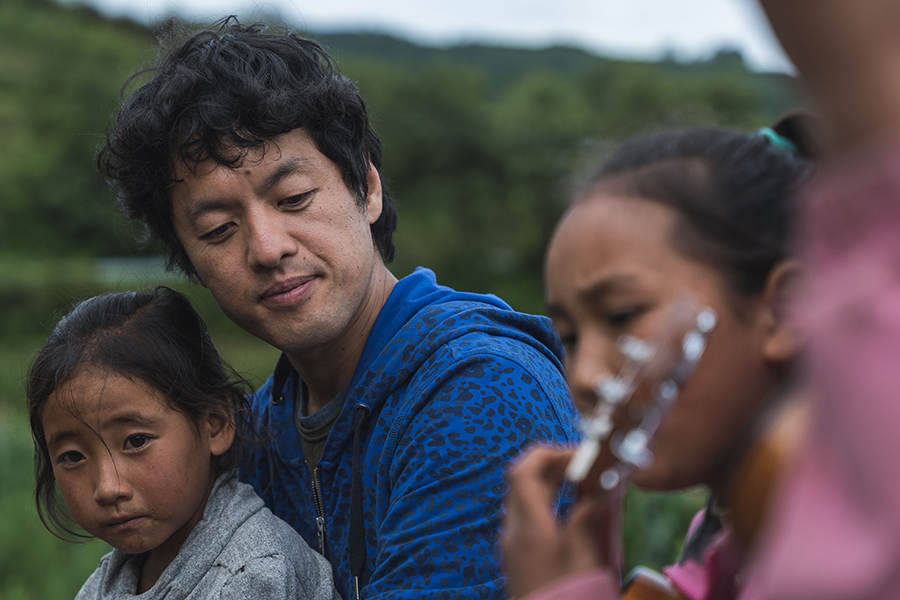 Takeuchi listens to the folk music of the Yi ethnic group in Liangshan. [Photo/China Daily]
While filming at Nanjing's best-known tourist site, the Confucius Temple, also known as Fuzimiao, Takeuchi was refused entry because he does not have a Chinese ID card and is not registered with the local health code system.
The company he works for was required to take employees' temperatures three times a day. The readings were checked by community workers.
Nanjing Fighting COVID-19, first shown on Japanese television in March, features footage of Takeuchi's son taking physical exercise courses at home.
"I was surprised this film was so popular, as I was only recording my life here in Nanjing. Nearly all the Japanese TV stations showed it every day during March," Takeuchi said.
In the film, he states: "Of course, I'm not asking other places to copy the measures taken in Nanjing. I just want to inspire viewers to come up with policies that suit local conditions."
Working in Wuhan
In a post on Sina Weibo, Takeuchi stated, "Many people told me not to go to Wuhan, because there might be more cases in the city than had been reported by the media.
"Many of my Japanese friends have biased opinions about Wuhan. As a foreigner living in China and a documentary director, I really wanted to go to the city to show the world the real Wuhan."
For Long Time No See, Wuhan, Takeuchi posted a notice on Sina Weibo, asking for volunteers. Hundreds of people applied to play the main character.
"Every resident in Wuhan has stories, so it was very difficult to choose. All the volunteers had great tales to tell, and we eventually chose 10 stories."
A lockdown was imposed in Wuhan, which has a population of more than 11 million, from Jan 23 to April 8 to prevent COVID-19 spreading.