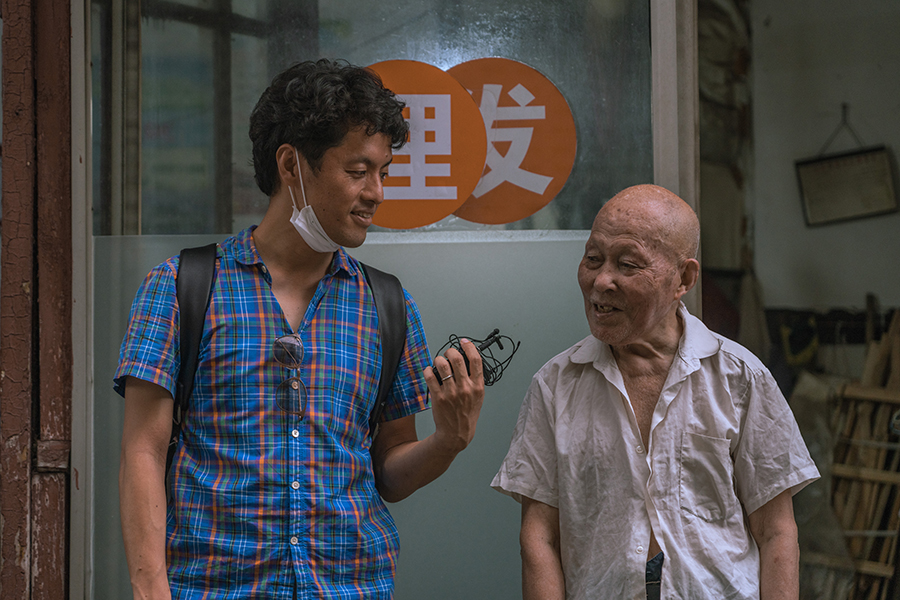 Takeuchi interviews a resident in Wuhan, Hubei province. [Photo/China Daily]
Representatives from some 100 media organizations in China and Japan interviewed him after the release of the documentary, he added. On the busiest day, he spoke to 14 media outlets.
Before rising to fame, Takeuchi had shot documentaries in China for six years, most of them subtitled in Chinese and Japanese.
His film The Reason I Live Here features the stories of hundreds of Chinese and Japanese living abroad.
"My inspiration comes from daily lives. A person will only get to know a place better if he or she lives there. I want to film China and get to know more about it. That is the reason I live in Nanjing," he said.
Measures in Nanjing
Returning from a business trip to Japan in mid-February, Takeuchi had to self-quarantine at home in Nanjing. Later that month, COVID-19 began to spread in Japan, and he thought the measures taken in Nanjing to combat the disease could be useful for his home country and its people.
When the number of cases in Nanjing fell to zero, he set out to portray how residents were coping with the pandemic.
His 13-minute documentary Nanjing Fighting COVID-19 focuses on measures taken by the city regarding businesses, catering services, the subway, online car hailing services, tourist sites and quarantine for people returning from overseas.
Takeuchi said it usually takes at least three weeks to complete a film. However, he and his team spent just three days planning, shooting and editing Nanjing Fighting COVID-19.
"People in Japan and elsewhere urgently needed to know about the measures taken against COVID-19 here in Nanjing," he said.
Unlike Takeuchi's other films, in this documentary, he is the main character.