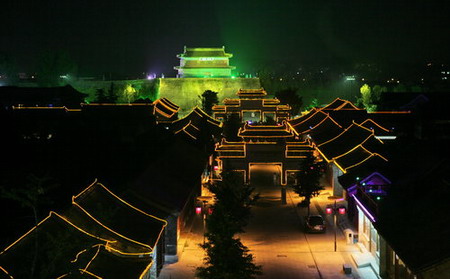 Night view of the Shanhai Pass, which is located at the eastern terminal of the Great Wall, in the city of Qinhuangdao, North China's Hebei province, October 11, 2009.[Photo provided to chinadaily.com.cn]
The Great Wall, a symbol of China, has for thousands of years protected residents from invasion. Its defensive role has long ended, but those living nearby are still working hard to safeguard this ancient landmark.
Meandering along mountain ridges across northern China, the Great Wall was built between the 3rd century BC and the Ming Dynasty (1368-1644). The existing sections mostly date from the Ming Dynasty, with the Ming Wall measuring over 8,800 km.
Shanhai Pass is located at the eastern terminal of the Great Wall, in the city of Qinhuangdao, in Hebei province. Here, local resident Zhang Peng, 33, can be found climbing the mountainside, a drone in his hands.
Zhang lives in Xiaozhuang village at the foot of the Great Wall. He is one of nearly 100 government-subsidized guardians of the world heritage site in Qinhuangdao.
The guardians, usually farmers, will conduct safety inspections of the key wall sections, stop and report harmful behaviors, and offer advice on the protection work.
Zhang obtained a drone license in 2017. Since then, he started shooting aerial pictures of the Wall, uploading them to a database.
"By comparing pictures of the same place taken at different times, changes can be seen clearly," Zhang said, adding that photos of cracks in the Great Wall have become important reference points for experts restoring the structure.
One time, Zhang found several men using metal detectors to search for "treasure" on the Great Wall, unearthing some ancient firearms. He reported this to law-enforcement officers who rushed to the site, confiscating the relics and punishing the "treasure hunters."
On the Jinshanling section of the Great Wall, watchtowers and walls used to be struck by lightning. On the advice of guardians, authorities have installed lightning rods on certain relics.
The Great Wall is a UNESCO World Heritage Site, consisting of many interconnected walls, traversing several provinces and cities in China.
Due to human destruction and natural weathering, some parts of the Great Wall have collapsed or been damaged, and they are in urgent need of renovation.
Over the years, China has put ever greater effort into protecting the Great Wall, including measures like establishing the Great Wall protection and renovation base and blacklisting visitors who cause damage.
In 2003, Qinhuangdao started employing local farmers to serve as Great Wall guardians, who now cover almost all the important sections.
Zhang Heshan, in his 60s, is one of them. He became a voluntary ranger 42 years ago. Unlike the younger generation of Great Wall rangers who employ modern technology during their work, Zhang has his own "weapons" -- a scythe, a garbage bag and a pair of rubber shoes.
Over the years, he has covered a huge distance during his patrols, amounting to twice the Earth's circumference, and he had worn through over 200 pairs of shoes. The various challenges, such as blizzards, rainstorms, wild bees and snakes, have not held him back.
Human activity once posed the greatest threat to the Great Wall, and it was hard to stop.
"Decades ago, people lacked any awareness of protecting it," he said. "Some villagers stole bricks to build pigpens, herded sheep onto the Wall and dumped rubbish on it."
Since then, he has persuaded the herdsmen to leave, scared away the brick-stealers, stopped tourists from making carvings on the Wall, and picked up the rubbish that was scattered around.
Zhang Heshan is happy to see that public awareness of Great Wall protection has improved. He has collected many historical stories relating to each watchtower and wall section within his area of responsibility.
Now he shoots videos about the Wall and shares the stories on short-video platforms. "In this way, I can make more people become aware of this historic relic and fall in love with it."
"People along the Great Wall have always been the main force protecting this ancient landmark. The protection work is getting better and the Great Wall spirit is also being carried forward," said Hou Kuiran, head of the publicity department of Qinhuangdao's Haigang District.
"The Great Wall is a treasure left by our ancestors. If we don't do something, I think one day it might disappear completely," said Sun Zhenyuan, a Great Wall ranger.
In 2007, Sun got sick and asked his nephew Sun Zhiwei to take his turn on duty. Sun Zhiwei, who runs a rural inn, accepted the invitation without hesitation.
"Great Wall rangers have a modest income, but I don't care about the money. Anyway, someone needs to accept the relay baton of Great Wall protection," he said.