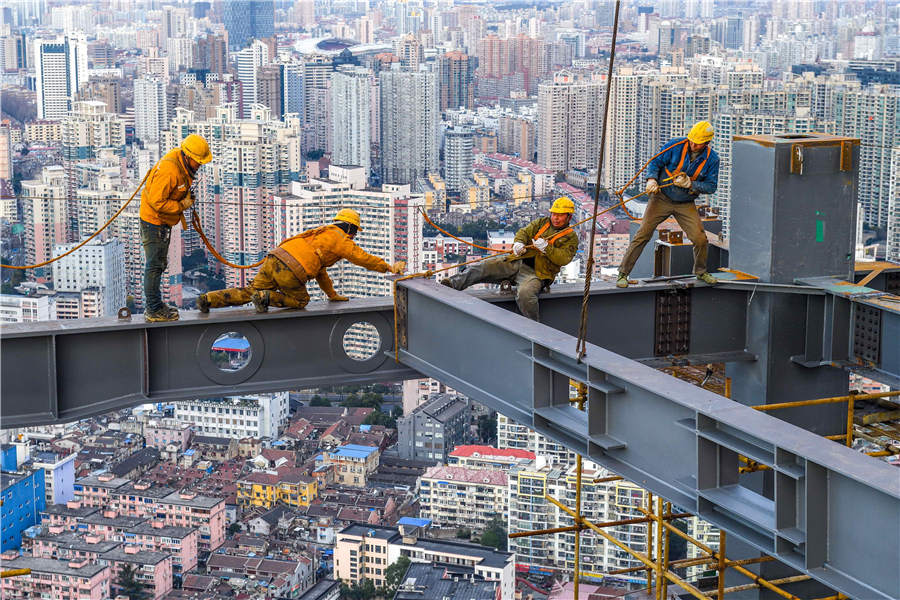 Workers coordinate steel components in place on Raffles City. [Photo by Hu Zhimin/For China Daily]
Gradually, their attitude changed. Coupled with the habit of going to the construction site for many years, I always rushed to the construction site to take pictures for everyone during holiday, so that the builders can share it with their families. In this way, everyone began to accept me and I thus became the "director photographer" of the workers. Moreover, as time goes by, they all know my focus, and they would even take the initiative to call me at every key construction period and invite me to take photos.
Another time I was particularly moved was during the filming of Elevated Neon. I kept photographing from noon to evening. I always felt that the light was not in place, and I hadn't caught the scene of the neon flow in the picture. After knowing my thoughts, they took the initiative to work overtime to accompany me to complete the shooting. Looking back on those days, I believe what I harvest most is not the work itself, but the friendship of thousands of builders.