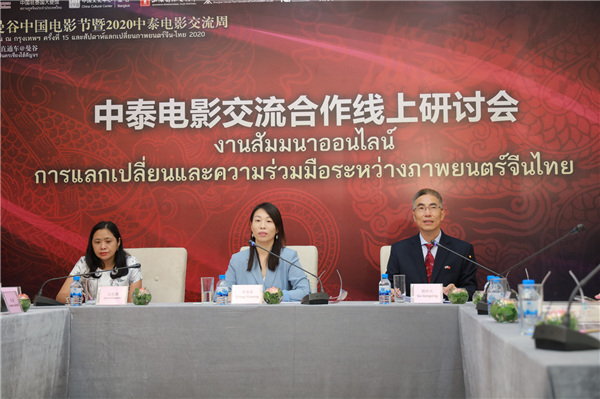 The China-Thailand Film Exchange and Cooperation Online Seminar takes place on Oct 25, 2020. [Photo provided to Chinaculture.org]
To promote film cooperation between China and Thailand, the China-Thailand Film Exchange and Cooperation Online Seminar was held on Oct 25 at the China Cultural Center in Bangkok and Shanghai Mercedes-Benz Cultural Center.
The seminar invited professionals from the Chinese and Thai governments, film industry associations and film industry entities to have in-depth discussions on the development of Chinese and Thai films.
The director of the National Film and Television Commission of the Ministry of Culture of Thailand said that in recent years, both the Chinese and Thai film industries have good market prospects. More and more Chinese film companies have come to Thailand to shoot scenes, and the film and television exchanges have enhanced mutual learning between the two cultures.
Yu Zhiqing, director of the Shanghai Film and Television Copyright Service Center, believes that with the close communication between China and Thailand and the increasing number of platforms for watching films and television shows, the issue of film and television copyright is in urgent need of development and improvement, so as to better boost the international promotion of films.
Chang Yumeng, cultural counselor of the Chinese Embassy in Thailand, said in his speech that this year is the 15th Sino-Thai Film and Television Exchange Week, and film and television products have brought more diversified cultural understanding to the Chinese and Thai people, becoming an effective channel for both countries to know each other better. He is confident there will be more room for cooperation between China and Thailand after the COVID-19 pandemic.