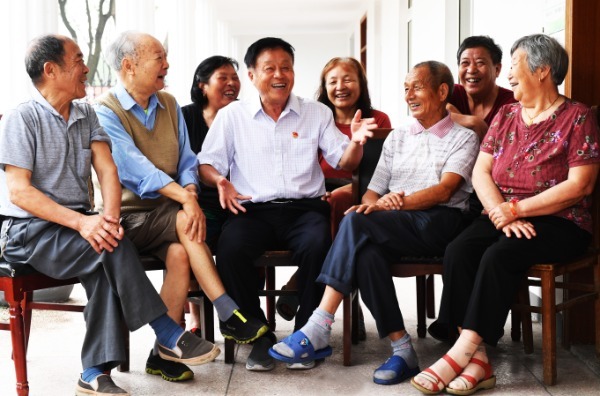 Chang Desheng (fourth from left), Party chief of Jiangxiang, visits residents at the village's senior home.[Photo provided to China Daily]
Ni Tonglian, a 71-year-old farmer in Jiangxiang village, Changshu city, Jiangsu province, has lived in a condo at an upmarket senior home for free with his wife for almost 10 years.
"More than 90 percent of the senior people have moved to the condos at the home," says Ni."We not only live here for free, but also get a pension from the village."
In Jiangxiang village, men can get a pension when they reach 58 and women when they reach 55. The pensions vary from 600 yuan ($89) to 2,300 yuan a month.
Apart from the pensions, they also share out a year-end bonus from the village, which was 10,000 yuan last year. The average income of the 875 villagers reached 62,500 yuan in 2019, which exceeded that of the urban residents of Suzhou, one of the most developed cities in China.
Any senior living in the village can have a condo at the home for free when they reach 65. Most of them have moved to the 192 villas built by the village committee.
Jiang Yuying, director of the committee, says each 220 square meter villa cost 300,000 yuan to construct, but the villagers just need to pay 128,000 yuan.
"The villas were equipped with stoves, natural gas, solar water heaters and almost everything that was needed for daily life," says Jiang. "The village also hires professional medical workers at its medical center and pays for about 50 percent of the villagers' medical expense."
Now, Ni and his wife enjoy traditional opera shows for free at least once a month. Their daily routine includes reading newspapers, taking a walk in the gardens and sharing books with other seniors at the home. Ni says he never imagined he could live such a peaceful and prosperous life when he was young.
The village looked totally different then.
Ni still remembers that he and his neighbors lived in dilapidated houses with dirt walls and thatched roof. Before the 1970s, the average yearly income of the villagers was less than 70 yuan.
Due to poverty, more than half of the men over 35 years old in the village could not find a female partner.
To add insult to injury, 70 percent of the villagers were diagnosed with schistosomiasis, a disease caused by parasitic worms that could cause, among other symptoms, emaciation, extreme malnutrition, abdominal dropsy and hepatosplenomegaly.
In 1966, 23-year-old Chang Desheng became the director of the village and held a meeting with the villagers at a room that just had one broken desk. All the people stood up for five hours and reached an agreement-their poverty was not destined and they could change their fate by working hard.
Chang and the villagers then spent more than 10 years to improve the fields to better grow crops and run a steel company which later became the biggest production base of steel components in Jiangsu province.
To improve the fields, the villagers had to fetch soil to the village from remote areas. They often got up at 4 am, walked for hours and picked up two full baskets of earth with a carrying pole on their shoulders.
Now, the yearly income of Jiangxiang has exceeded 20 million yuan. The total value of collective assets of the village have passed 1 billion yuan.
It has been equipped with a library, a cinema, a theater and a science museum. It also has rivers, wetland parks and farmlands that grow organic crops. Many villagers have grown fruits and vegetables in their yards.
More than 60 percent of the village is now covered by trees and flowers. Every year, nearly 300,000 tourists go to the village for sightseeing.
The purpose of keeping large areas of farmland and wetland, in Chang's words, is to "make the village a forest and benefit the later generations".