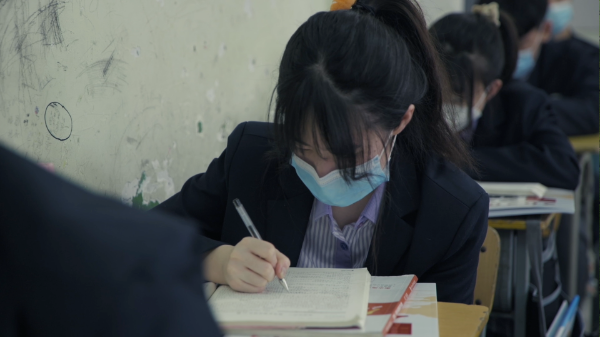 The documentary Gaokao 2020 records how Chinese youngsters and their parents face up to the challenge of the college entrance exam amid the COVID-19 pandemic.[Photo provided to China Daily]
In April, when the lockdown of Wuhan, the Chinese city hardest-hit by COVID-19, was lifted, Kang Chengye was shooting a video about Zhang Dingyu, head of Wuhan Jinyintan Hospital. Zhang was seeing off medical workers from around the country who had rallied to help Hubei province.
When the teams left, Zhang returned to the hospital. As a patient of amyotrophic lateral sclerosis, he walked with a limp. Seeing his stumbling figure, Kang says he suddenly felt that although the city was recovering from the outbreak, the impact continued.
To show what the post-pandemic world would look like, Kang has contributed to a documentary about this year's gaokao, the national college entrance exam.
His 12-minute video about a twin boy and girl, who sat the exam, is an episode of the series Gaokao 2020 that was shown on Xinjiang Satellite TV and streaming sites Bilibili and iQiyi. The documentary was produced by China Review Studio of China Report Press. The English version will air on National Geographic in October.
Other than Kang's episode, the documentary has four other episodes, all shot by foreign filmmakers who live in China, recording different Chinese students' experiences of this year's exam in Beijing, Shanghai, Nanjing in Jiangsu province, Ordos in the Inner Mongolia autonomous region and Wuhan.
Kang's episode, called Genuine Growth, records the story of twins Wang Kejun and Li Kerui who live near Wuhan's Huanan seafood market, where the outbreak was first reported.
"Living in Wuhan, their gaokao was tremendously affected this year, but they still faced up to the changes in a positive way. I see the power of hope in them," says Kang.