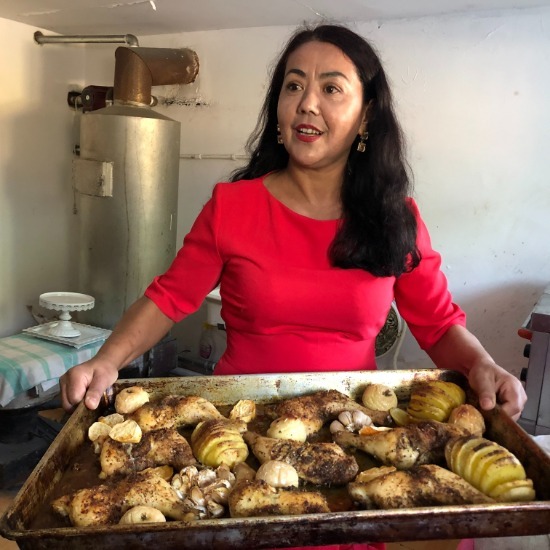 Khalitan Ylahon prepares a traditional Russian dish for guests at her daughter's wedding in Tacheng, Xinjiang Uygur autonomous region.[Photo by Yang Yang/China Daily]
After dancing with friends who have come to help with her daughter's wedding, Khalitan Ylahon, in her 50s, walks into her kitchen in a Russian-style house in Tacheng city, Northwest China's Xinjiang Uygur autonomous region, to check the oven.
Wearing a red dress and matching lipstick, she has been roasting a traditional Russian dish that is now ready. The mixed aroma of roasted chicken drumsticks, potatoes, apples and sweet potatoes fills the kitchen and corridor. Next, she will bake lamb-stuffed buns, a traditional Uygur snack that is popular in Xinjiang.
Situated along Xinjiang's northwestern border with neighboring Kazakhstan, Tacheng is the farthest point from any ocean than anywhere else on Earth. Covering an area of 4,356 square kilometers, Tacheng has a population of 170,000 from 25 ethnic groups, including Han, Kazak, Hui, Uygur, Daur and Russian. For about one millennium, since the Tang Dynasty (618-907), it has been an important town on the Silk Road as the "Central Asian trade corridor".
Khalitan is the owner of the yard, Rose Manor, where she has grown flowers on empty land. Three years ago, after her youngest daughter was admitted to the China Conservatory of Music in Beijing, at the suggestion of the local government, she returned from Urumqi, the regional capital, and transformed the house, that was built more than 20 years ago, into a restaurant with an ethnic flavor. The style of the house and furnishings also have Russian influence.
"We receive reservations, but only one table at most for 20 diners a day, because the space is limited," she says in fluent Mandarin.
Rose Manor is located in Tacheng's Haerdun community that has a population of 3,821, or 1,510 households, from 14 ethnic groups, including Han, Kazak and Uygur.
Her family is among 274 families in the community where interethnic marriages take place. Her family has six ethnicities.
The biggest attraction of Rose Manor is that diners can eat snacks and dishes of five or six ethnicities at the same time, including Russian bread and salad, Kazakh fried snacks, Tatar cakes, pilaf and puff pastry, baked stuffed buns and lamb shashlik, dumplings and so on.