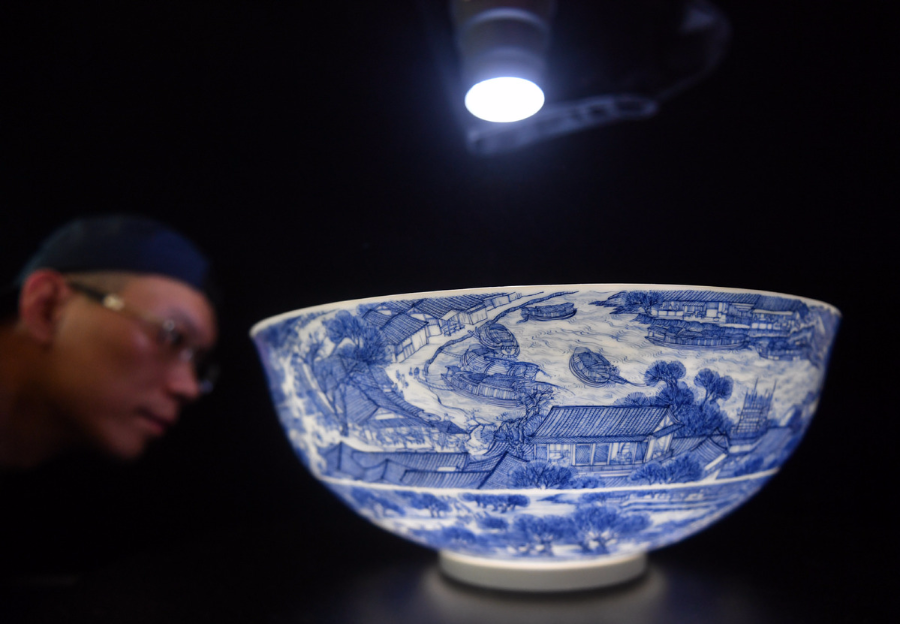 A visitor views the egg shell porcelain bowl decorated with the famous Chinese painting "Along the River During the Qingming Festival" made by the team "Kuaixueshiqing" in Jingdezhen, East China's Jiangxi province, Oct 15, 2019. Egg shell porcelain, a renowned kind of traditional porcelain work produced in Jingdezhen of Jiangxi, is famous for its thin and transparent body which makes it special.[Photo/Xinhua]
The 2020 China Jingdezhen International Ceramic Fair will be held from Oct 18-22 in the city of Jingdezhen, a world-famous "ceramics capital" in East China's Jiangxi province as scheduled.
The fair has set up a total of 1,500 standard booths and is expected to see contracts worth over 20 billion yuan (about $3 billion) signed, according to the Jiangxi provincial government.
Co-hosted by the Ministry of Commerce, the Ministry of Culture and Tourism, the China Council for the Promotion of International Trade, the China National Light Industry Council, and the provincial government of Jiangxi, this year's fair will feature domestic art ceramics exhibitions, and add comprehensive exhibition areas showcasing tea culture and lifestyle, as well as ceramic derivatives.
The fair will also cooperate with e-commerce platform Tmall and set up an 800-square-meter area for livestreamed promotions and sales shows.
With 1,700 years of ceramic-making history, Jingdezhen is home to more than 30,000 people working in ceramics. The porcelain here is praised as being "white as jade, thin as paper, with the sound of a bell, and bright as a mirror."
First held in 2004, the China Jingdezhen International Ceramic Fair has become a major platform to show the world's finest porcelain and drawn enterprises from many countries and regions, including Japan, Britain, Russia, and Germany, in its previous 16 sessions.