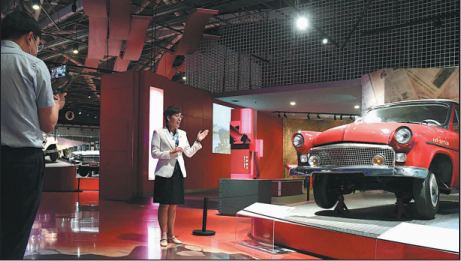 Yang Rui, curator of Beijing Auto Museum, shows off the museum's vehicle collection to viewers during a livestream on May 18. [PHOTO/XINHUA]
Beijing Auto Museum has launched a series of activities to boost crowds and link the development of culture with the automobile industry.
The museum began the 2020 automobile culture campaign on May 18, which marked the 44th International Museum Day.
"The theme for this year's International Museum Day is 'Museums for Equality: Diversity and Inclusion'and we launched the development concept of multiculturalism bringing warmth to museums in 2016," said Yang Rui, curator of the museum.
The museum works on the integrated development of diverse cultures, including automobile culture, popular science, tourism, patriotic culture and international communications, Yang added.
The 2020 automobile culture campaign, scheduled to last through December, covers a raft of activities. It includes exhibitions on the history of the automobile industry and its notable figures and simple motor maintenance activities.
The campaign also includes online services. Using livestreaming technology, the event allows people to visit the museum and even purchase a vehicle online.
The livestreaming activities launched on May 18 attracted nearly 2 million real-time online views to the museum, a record number.
The vehicle maintenance activity focuses on the standards for privately owned cars. It aims to promote scientific vehicle maintenance methods and concepts, and guides people to use and maintain their cars properly.
To improve its connection with the tourism industry and promote auto culture's role in daily life, the museum is developing cultural derivatives of the automobile industry.
For example, the museum offers a design platform for amateurs to create vehicle models and designs.
Visitors can use discarded auto parts and components to create their "dream cars". The finished products will be showcased at the museum, which not only promote the concept of environmental protection, but also help add an artistic touch to the exhibition.
In addition, the campaign is aimed at enabling automobile culture to aid consumption and boost the development of culture and industries, Yang said.
The aim is in line with the country's efforts in stabilizing and helping automobile consumption.
Several central government departments-including the National Development and Reform Commission, the Ministry of Science and Technology, and the Ministry of Industry and Information Technology-jointly released a notice about stabilizing and expanding automobile consumption at the end of April.
By adjusting emission standards, subsidies on new energy vehicles and phasing out obsolete diesel trucks, the notice aims to help create a friendly market environment for automobile consumption.
To explore a new era of cultural integration in automobile industry marketing, the museum takes advantage of livestreaming technology to provide visitors with multiple channels to learn about auto brands and their cultures in an attempt to promote automobile consumption.