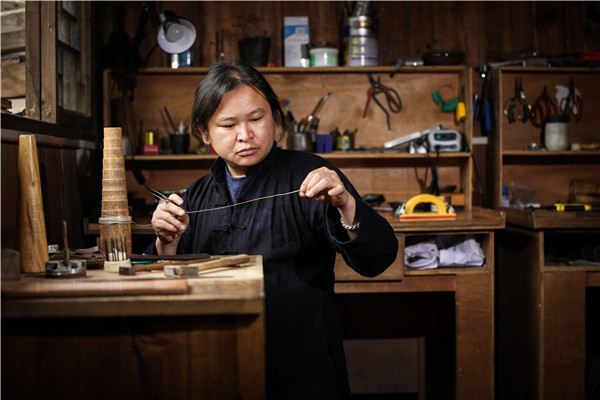 Silversmith Pan Shixue works at his studio in Maliao village, Leishan county, Southwest China's Guizhou province. [Photo provided to chinadaily.com.cn]
"I dreamed of people living an abundant life in our village, where nobody has to work far away from home and customers come to us for beautiful silver jewelry. Now the dream is reality," said Pan Shixue, a silversmith in Maliao village, Southwest China's Guizhou province. He and others in the village are fighting poverty with their unique craft.
Thanks to the efforts of artisans like Pan, Miao silver jewelry, originally celebrated in regional ethnic culture, has found its way across the mountains to a wider world.
Just as diamond rings are given for marriage proposals, Miao people used to give silver jewelry expressing affection and commitment. "Back in the old days, it also reflected the wealth of a woman's family," Pan said.
A complete set of silver decorations in the dowry typically included a hat, bracelets, a collar and anklets, weighing six to nine kilograms in total. At a typical Miao wedding ceremony, the bride would walk across the stage wearing all of them.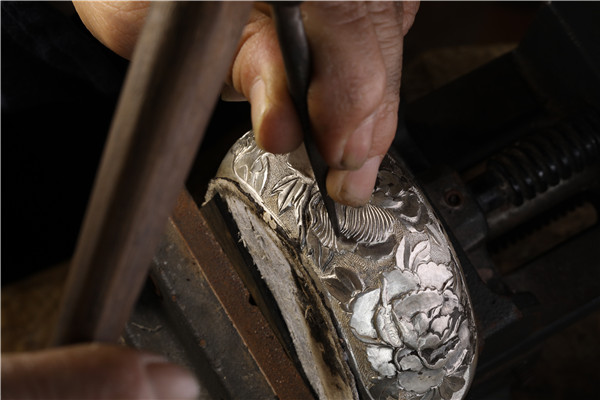 Pan hand-carves a silver bracelet at his studio. [Photo provided to chinadaily.com.cn]
Miao silver jewelry was listed as National Intangible Cultural Heritage in 2006. But cheaper, machine-produced silver trinkets soon dominated the national market, leaving local craftsmen no choice but to abandon the old techniques.
Coming from a line of silversmiths, Pan was also put off by the bleak situation. "Nobody outside these mountains knew about Miao silver jewelry. Production was limited, and so was demand," Pan said. "My father wanted me to find work at bigger cities. Silversmithing wasn't enough to make a living."
Pan dropped out of high school and migrated from job to job for many years. "Restaurant, car wash, manufacturing – you name it. Far away from home, life was tough with no college degree," Pan said. "I knew I had to find my edge."
He did – in silversmithing, back in the family trade.
"I learned the basics from my cousin, then tried very hard to figure out everything else," Pan said.
As it turned out, knowledge derived from practice.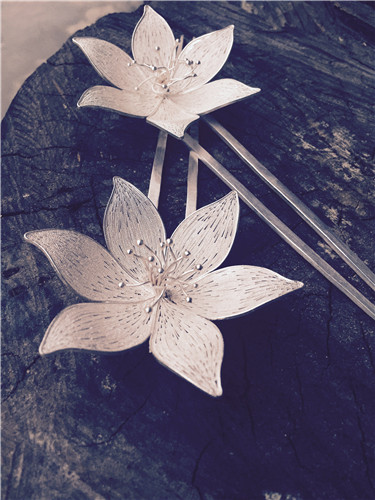 Silver flower hairpins handmade by Pan Shixue. [Photo provided to chinadaily.com.cn]
At the dawn of China's online shopping boom, Pan opened his shop on Taobao in 2008, titled Guizhou Silversmith.
"Orders came from all around the country. Each was customized. I was pushed to enhance so many techniques to meet my clients' standards," Pan said. That rapidly evolving process was both stressful and enormously rewarding.
Deeply in tune with market demands, Pan has his own perspective on craftsmanship. "I think it means fully committing to meet clients' requests. Many senior silversmiths from Miao villages cling to old ideas, existing design. I'd like to be more flexible."
In 2018, the government appropriated 580 thousand yuan ($81,000) of poverty alleviation funds to set up the Silverware and Embroidery Workshop of Maliao Village. Young craftsmen gradually returned to their hometown and found a bright future at hand.
The same year, Pan moved his family from the city back to Maliao. "This used to be a 'silversmith village'. To create more momentum, we need to bring the craftsmen together."