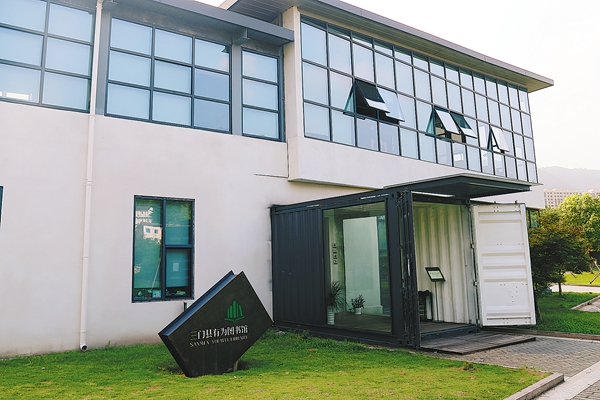 Youwei Library in Sanmen, Zhejiang province, attracts local residents with its diverse cultural activities.[Photo provided to China Daily]
The owner of a library in a Zhejiang town tells the story of its growth in a new book, Cheng Yuezhu reports.
Located in a small coastal town in East China's Zhejiang province is a library with a relatively short history and limited funding. Yet, it has attracted more than 1,000 volunteers devoted to its development over the past years.
A new book entitled A Library Changes a Town tells the story.
Opened in June, 2012, Youwei Library is considered the first privately owned public library in the province.
Zhang Jin, the author of the book and founder of the library, says when she decided to open the space, her friends gasped in disbelief, for her personality was not one they could relate to any nonprofit cause.
She had acquired a master's degree in land economy from the University of Cambridge in Britain and embarked upon a thriving career in the financial sector in cities such as Beijing and Hong Kong.
What most of her friends and colleagues did not know, however, is that she loved reading while growing up, and her childhood dream was to become a librarian.
Born and raised in the county of Sanmen in Zhejiang, she realized that students in small towns may not have equal opportunities to immerse themselves in various cultural activities and explore their interests.
In the autumn of 2011, Zhang made up her mind to open a library in her hometown to help young students broaden their horizons.
Apart from providing a reading space, Youwei Library is known for its diverse cultural activities that aim to bring innovative education and public welfare concepts to the town, and offer long-term learning opportunities to the local communities.
As an organization that relies on donations, the library has been keeping detailed records about its everyday operations and events.
In the fifth year since the library's establishment, Zhang thought about publishing the material as a book.
"Some visitors were curious about how we persisted with this library, and other library directors also came to learn from our experience," Zhang says.