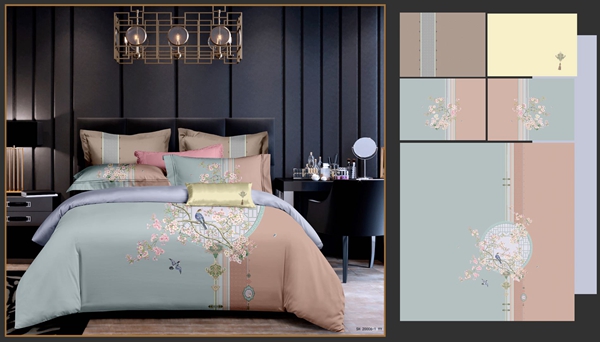 A Chinese painting featuring auspicious flowers and birds by artist Zhang Qiubo is made into printed patterns on a bed sheet set. Hengyuanxiang will give the bed sheet as a special gift for people working on the front line in fighting against the novel coronavirus outbreak.[Photo provided to China Daily]
Winning designs from a competition by a textile company are set to inspire love and solidarity in a world hit by the novel coronavirus pandemic, Zhang Kun reports in Shanghai.
The "Love is Forever" international design competition by renowned Chinese textile company Hengyuanxiang received hundreds of submissions from home and abroad before May 15, when submissions were closed.
The competition, which kicked off on Earth Day on April 22, is supported by China National Radio and the Hubei Women's Federation. Hengyuanxiang says the event is aimed at inspiring love and solidarity in a world hit by the COVID-19 pandemic.